This Rotten Week: Predicting Rogue One: A Star Wars Story And Collateral Beauty Reviews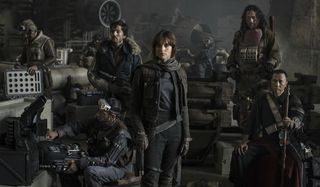 As we get closer the holidays, the big budget box office movies come at a faster pace - and this week we are truly getting one of the biggest movies of the year. This Friday we've got two big budget flicks with Rogue One: A Star Wars Story and Collateral Beauty. It's gonna be a Rotten Week!
Just remember, I'm not reviewing these movies, but rather predicting where they'll end up on the Tomatometer. Let's take a look at This Rotten Week has to offer.
While it isn't aggregating on Rotten Tomatoes yet, critics were treated to the world premiere of Rogue One: A Star Wars Story this weekend, and the general consensus followed Cinema Blend's own Eric Eisenberg, who thought the movie rocked. Does this represent all critics? Of course not, but the sampling is enough to figure it performs well above average and possibly even in the "great" level.
After the travesty of the Phantom Menace and other prequels it's fine to be a little worried/gun shy with new additions to the Star Wars world. But with The Force Awakens (92%) kicking ass and Rogue One hopefully following suit we are entering a whole new generation of bad ass Jedis and full on geek-dom we've so desperately needed. Gareth Edwards (Godzilla - 74%) directs and tells the story of the group of rebels who steal the Death Star plans so vital in A New Hope. Let's get excited folks, because the critics sure are pumped.
I made 2/3's of the way through the trailer for Collateral Beauty before calling it quits. Maybe my heart is dead inside. Maybe it's a shriveled up piece of coal that can't let any of the light in. Or maybe this thing is a schmaltzy mess that's coming out in time for the holidays to bring folks out to the theater in time for a "feel good" movie. I just don't see it totally working. In it, Will Smith writes letters to Love, Death and Time, who end up visiting him Christmas Carol/ Scrooge-style in the form of Keira Knightley, Helen Mirren and Jacob Latimore respectively. I don't really have high hopes for the end result.
There's some reason though to think it performs well with critics, as director David Frankel has some experience with these kinds of movies. He's directed plenty of them in One Chance (62%), Hope Springs (75%) The Big Year (40%) Marley & Me (63%) The Devil Wears Prada (76%). These all fall into the low stakes, though mostly well-received camp. There's a chance this latest ends up in the same category.
We only had one flick on the docket last week, and I whiffed pretty bad. Office Christmas Party (Predicted: 74% Actual: 43%) fell way below my prediction. I may have been blinded by a youthful exuberance and juvenile sense of hilarity that doesn't always get there with critics. In fact, reading the reviews, it kind of feels amazing this thing even finished at 43% because the tenor of the ones who disliked it had the taste of true despise. In that respect, I feel a bit lucky "only" missing this prediction by 30%. Feels like if could have been much worse.
Next time around we get into the holiday box office spirit with Why Him, Assassin's Creed, Passengers and Sing. It's gonna be a Rotten Week!
Doug began writing for CinemaBlend back when Terminator: The Sarah Connor Chronicles actually existed. Since then he's been writing This Rotten Week, predicting RottenTomatoes scores for movies you don't even remember for the better part of a decade. He can be found re-watching The Office for the infinity time.