This Rotten Week: Predicting Why Him, Passengers, Assassin's Creed and Sing Reviews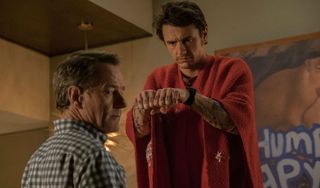 The week before Christmas usually means we get a flurry of flicks hitting the big screen. That's the case this year as well, as studios are filling theaters with new options for movie-goers during the holiday season. This time around we have Why Him?, Passengers, Assassin's Creed and Sing. It's gonna be a Rotten Week!
Just remember, I'm not reviewing these movies, but rather predicting where they'll end up on the Tomatometer. Let's take a look at This Rotten Week has to offer.
Ah, to be a YouTube star. That collection of dudes/ dudettes who hopped on to a growing trend early on and were able to turn some iPhone screen time into a multi-million dollar career. I'm not poo-pooing it by any means. My kid loves Nerdy Nummies as much as the next person. Though I can see the generational differences that would creep up if my daughter was about to marry a Jake Paul-type who just happened to also be incredibly rich This is the general conceit of Why Him?, in which Bryan Cranston's modern sensibilities are thrown all the hell off with James Franco's crazy man tendencies through the courting of the former's daughter.
Writer/director John Hamburg (I Love You, Man - 84%) said he wanted to upend the power struggle of a film like Meet the Parents, where the dad holds all of the cards, and I commend him for the effort. But critics don't think he got there with early reviews trending on the negative side for Why Him? What a shame. A James Franco/Bryan Cranston pairing should get all the way there, but this one appears to fall short.
Waking up from a cryogenic sleep to the eyes of Jennifer Lawrence (even if it was decades too early) doesn't seem like the worst fate in the world. But this flick presupposes it's not only an issue, but also a life and death scenario. So yeah, try sci-fi with Passengers!
It's always interesting (and helpful) to get advanced reviews of a flick like this one. On it's surface, considering the cast of Chris Pratt and Jennifer Lawerence plus the directing resume of Morton Tyldum (The Imitation Game-90%, and Headhunters - 92%), you'd think Passengers would just be set for a "lock" on the Tomatometer. But early reviews are trending on the dreadful side of things, with critics just panning it left and right. Many seem to think that it deals with some interesting ideas story-wise, but that it's unable to deliver on capitalizing on them by the end. What a shame, considering the folks involved here. I suspect it's a decent cable watch but not worthy of seeing in the theaters which could kill the movie's bottom line.
There's a long and rich history of video games-turned-movies sucking a royal egg at the theaters. In fact, just look at this list of video games premises made into movies here and you'll see what I'm talking about. Not one of these pieces of trash finished above 50% with the critics, and most aren't even close. This isn't to say it's impossible, but when the premise comes from the land of the controller, you usually don't get a widely received movie. This make sense, of course, as the original characters are meant to be controlled and manipulated, not just speak lines on the screen. It seems to create a disconnect between the material and the audience - and it seems like it's going to happen again with Assassins Creed.
Even with Michael Fassbender leading the charge into the body of a time-traveling, super killer I don't think Assassins Creed gets to the proper 60% place it needs to be with critics. It's too convoluted (read: it's meant to be a video game) and messy in terms of it's overall plot structure. I suspect it keeps the long storied tradition of video games making for shitty movies.
As if a nation's worth of real life humans competing for singing prizes wasn't enough, we now have to get the anamorphic version of this crap with a something like Sing. My goodness, when will it stop?
Sing comes from Illumination Entertainment, who also brought us Secret Life of Pets (74%) earlier this year and Minions (56%) before that. This should definitely give the flick a leg up at the box office, and potentially with critics. But man, the premise here seems beyond contrived even for an animated film - which can play faster and looser with it's realistic tethers than live-action feaures. I'm inclined to say critics don't hate it, but I'd be shocked if they fell head over heals for an animated singing competition. And yes, there's star-powered voices here, with Reese Witherspoon, Seth MacFarlane, Matthew McConaughey and others featured, but that almost never correlates strongly to critical reception. I think at Sings numbers fall over the course of the week as more opinions roll in.
Well, we start with a win - and oh did this one ever deliver. Rogue One: A Star Wars Story (Predicted: 79% Actual: 84%) crushed it with the critics, and has Star Wars fans everywhere chomping at the bit for this franchise to just keep firing on all cylinders. Getting this kind of response with a big budget, popcorn flick further solidifies that Star Wars is pulling into the discussion for best current movie franchise.
In many ways I want to say I was right about Collateral Beauty \(Predicted: 55% Actual: 14%). I know the prediction and the final score don't suggest I was anywhere close, but I said in the write up that I had serious concerns about this movie. It looked beyond cliche, forcing the Christmas Carol-esque theme into a contrived story about loss. But, I wasn't able to go low enough on the score because of the cast and crew. That ended up my undoing, as critics went nuts on this thing. They hated it, and a 14% puts it firmly in the camp of bomb holiday films who tried a little too hard to pull on our heart strings.
We take a week off for the holiday, but we will be back again after the New Year withUnderworld: Blood Wars. It's gonna be a Rotten Week!
Doug began writing for CinemaBlend back when Terminator: The Sarah Connor Chronicles actually existed. Since then he's been writing This Rotten Week, predicting RottenTomatoes scores for movies you don't even remember for the better part of a decade. He can be found re-watching The Office for the infinity time.
Your Daily Blend of Entertainment News
Thank you for signing up to CinemaBlend. You will receive a verification email shortly.
There was a problem. Please refresh the page and try again.