Amazing Rogue One Making-Of Video Shows Off The Movie's Incredible Locations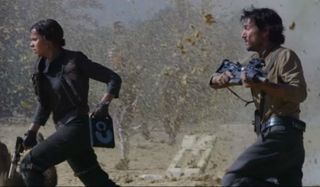 While Rogue One was again set in a galaxy far, far away, locations scouts had to find places a little closer to home to replicate the planets. They did a scintillating job, too, as each different setting, which were darted across the world, in Rogue One had its own texture and aesthetic, all of which combined to make audiences feel like they were in a far off world. To celebrate this success, the power- that-be behind Rogue One have released a handy video breaking down the different locations used in the blockbuster.
Doesn't that just make you want to set off and travel the globe immediately? Let me just give you a quick little pointer as a Brit, and say that you should probably give Slough a miss, though. It's not the best. However, everywhere else where Rogue One shot looked utterly divine. At the start of the above clip, Rogue One's director Gareth Edwards insisted that he was keen on shooting on location so that it would "feel real" to audiences wherever they looked on screen.
Their first port of call was Wadi Rum in Jordan, which was used to create parts of Jedha. Gareth Edwards admitted that in order to get the right light for their shots, the Star Wars posse did have to get up bright and early to begin filming. However, that wasn't of too much concern for Felicity Jones, who insisted that shooting there made her feel like she really was in a galaxy far, far away.
Rogue One carried on the grand Star Wars tradition of shooting in the United Kingdom, with Pinewood Studios in Buckinghamshire and Elstree Studios in Hertfordshire being used for certain parts. The use of RAF Cardington, a formal Royal Air Force station, was actually a throwback to the original series, as this is where the exterior shots of the Yavin base were shot for A New Hope.
Meanwhile, a secluded and beautiful part of Iceland was used for Galen, Lyra and a young Jyn Erso's home on Lah'mu, while Laamu Atoll in the Maldives was turned into the planet of Scarif for Rogue One's gargantuan final battle scenes. Gareth Edwards even insisted that filming on the latter combined paradise with Star Wars. What more could you ask for?
All of these locations worked delightfully well together. You can take a quick look at the trailer for Rogue One: A Star Wars Story to remind yourself of these eclectic settings below.
Rogue One: A Star Wars Story is now in theaters across the world, and it's rather wonderful.
Your Daily Blend of Entertainment News
Thank you for signing up to CinemaBlend. You will receive a verification email shortly.
There was a problem. Please refresh the page and try again.