What Batman and Superman's Relationship In Justice League Will Be Like, According To Henry Cavill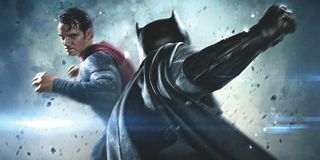 There are no two members of the DC Justice League more diametrically opposed than Batman (Ben Affleck) and Superman (Henry Cavill). Kal-El is a bright and powerful symbol of hope, and Bruce Wayne is a dark, damaged human with badass skills and some awesome toys. It's because of these differing attitudes that it seems the relationship between the two heroes won't just be easily fixed by the end events of Batman v Superman: Dawn of Justice. Henry Cavill seems to think that they will still butt heads over leadership responsibilities in Justice League.
During a recent interview with Total Film (via Comicbook.com), Henry Cavill admitted that Batman and Superman have not totally moved beyond their differences yet. When the Man of Steel is finally resurrected during the events of Justice League (an event telegraphed in the final moments of Batman v Superman: Dawn of Justice) he will join forces with The Dark Knight and the two will apparently argue over who should have control of the team. There's no guarantee that this will lead to another smack down between the two icons, but we're not ruling it out yet. Cavill told the movie magazine,
Deciding between Batman and Superman is definitely a hard call. On the one hand, it's very clear that it will be Batman who is forming the Justice League in the DCEU (with help from Wonder Woman), and his talent as a strategist coupled with his vast experience makes him a natural choice to lead. That being said, Superman is the most powerful hero on the team, and he provides a much better face for the organization -- which goes a long way towards establishing public trust in the Justice League. There's no clear-cut answer here, but we have a feeling that they will eventually figure something out. They'll have to. Steppenwolf is coming and he's not going to wait around while they try to figure out the minor details of the team.
All things considered, given how badass she has become since her debut, I wouldn't be surprised if the film takes a major left turn and gives leadership responsibilities to Gal Gadot's Diana Prince a.k.a. Wonder Woman. After all, Bruce Wayne may have decades of experience, but she has centuries of it.
It's not shocking to learn that there will be some degree of friction between the heroes in the upcoming team-up movie. That has pretty much become a given for most superhero ensembles in recent years. Half the fun of The Avengers was watching Earth's Mightiest Heroes work out the kinks in their dynamic, and we certainly expect Justice League's lighter and more optimistic tone to follow a similar route.
We will see for ourselves when Zack Snyder's Justice League debuts in theaters on November 17, 2017.
Check out the San Diego Comic-Con trailer for Justice League on the next page for an even better look at the upcoming DC team-up movie!
Originally from Connecticut, Conner grew up in San Diego and graduated from Chapman University in 2014. He now lives in Los Angeles working in and around the entertainment industry and can mostly be found binging horror movies and chugging coffee.
Your Daily Blend of Entertainment News
Thank you for signing up to CinemaBlend. You will receive a verification email shortly.
There was a problem. Please refresh the page and try again.