The 10 Best Movie Action Scenes Of 2016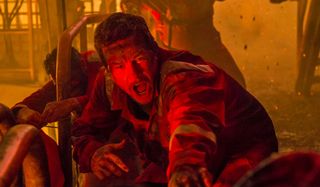 I'm not going to remember 2016 as a stellar year for action set pieces. Likely, this is because a few of the heavy-hitter action movie franchises sat 2016 out, from the usually ridiculous (in a good way) Fast & Furious series to the reliably impressive Mission: Impossible movies. Tom Cruise, in particular, mailed in his 2016 effort with the disappointing Jack Reacher: Never Go Back, a sequel in desperate need of a signature action sequence to help it stand apart from the crowd.
So, which movies stepped up their game and replaced the flying Fast & Furious cars, or the rampaging dinosaurs of Jurassic World, two winners from last year? Marvel stepped up to the plate, as expected. And Star Wars continued its new streak of visually impressive action choreography. But unexpected names made it onto this year's list, too, from Clint Eastwood to Peter Berg. Here are our selections for the 10 Best Action Scenes of 2016. When possible, we included video.
10. Race to the Buoy, The Shallows
"This is my head start." Jaume Collett-Serra's tight-knit Blake-v-Shark thriller The Shallows is so compact, the whole movie could be considered the 10 spot on our Action Sequences list. Once Ms. Lively hits the water, the movie hardly pauses to take a breath until the credits roll. The shark is ever looming, so Lively's in perpetual motion -- and always fearing for her life. However, we'll single out one of these earlier encounters, where tasty surfer Nancy Adams realizes she has a few seconds to reach a nearby buoy before she becomes a swimming snack.
Read Our Review of The Shallows
9. The Sanctum Sanctorum Fight, Doctor Strange
Scott Derrickson deserves credit for introducing magic to the Marvel Cinematic Universe in Doctor Strange, but that license essentially allowed him to stage breathtaking chases and battles across large-scale M.C. Escher paintings, where the laws of gravity rarely applied. The director and his crew take their tricks out for a test drive in this memorable action sequence, when Kaecilius (Mads Mikkelsen) attacks the Sanctum Sanctorum in New York City, and an untested Stephen Strange must meet the challenge of defending the asylum from this powerful threat.
Read Our Review of Doctor Strange
8. Blue Squadron Infiltrates The Scarif Shield, Rogue One
We don't have footage of the Blue Squadron in action in Rogue One: A Star Wars Story, as the film's still in theaters, so we'll have to make due with this fan YouTube confirming their presence -- which you see in snippets in the trailers and TV spots. Blue Squadron gets the nod for this action list because they are the X-Wings that make it through the Empire's portal before the evil forces can close the shield, thereby turning Scarif into a fish bowl of death and destruction. The last of the Blue Squadron pilots making it through that small-ish hole to assist Jyn Erso (Felicity Jones) and her band of rebels was the most exciting moment in Rogue One (not involving Darth Vader).
Read Our Review of Rogue One: A Star Wars Story
7. The Watertown Shootout, Patriots Day
The bulk of Peter Berg's Patriots Day consists of a manhunt conducted by professionals who are out for vengeance against the two men who planted a bomb at the finish line of the Boston Marathon. The action reaches its peak, however, when the terrorists escape Boston's city limits and end up in the nearby town of Watertown, where diligent police officers identified the criminals' vehicle, then engaged. Peter Berg is fast becoming an expert at staging these based-on-real-life thrillers, and the intense shootout on the streets of this quiet Massachusetts town is one we won't soon forget.
Read Our Review of Patriots Day
6. Batman Versus A Warehouse Filled With Thugs, Batman v Superman: Dawn Of Justice
Saving Martha proves to be a difficult task for Ben Affleck's Batman in Zack Snyder's Batman v Superman: Dawn of Justice. The Dark Knight just went toe-to-toe with the Man of Steel, but when they realize they share... something ridiculous in common, Batman agrees to save Supes' mom. But first, he has to fight his way through a small army of Lex Luthor's minions, killing most of them in the process. That's a sticking point for a lot of Batman fans, though when you look over the grand scheme of "Batman Fights on Film," there's no question this sequence has to be at the top of any list.
Read Our Review of Batman v Superman: Dawn of Justice
5. The Hudson River Landing, Sully
Clint Eastwood isn't normally a name you think of when listing off top action directors. Clint's no John Woo, and we won't be handing him a John Wick sequel any time soon. But there's no denying that Eastwood's staging of Capt. Chesley "Sully" Sullenberger (Tom Hanks) was one of the year's most tense and riveting sequences, even though we knew the outcome. With two engines down, and a plane filled with passengers, Sully assess his impossible situation, realizes he'd never make it back to a nearby airport, and opts to put the plane down on the Hudson... and I'm convinced the plane is going to snap in half every time I watch this white-knuckle sequence.
4. Multiple Kirks On Multiple Motorcycles, Star Trek Beyond
James T. Kirk (Chris Pine) never leaves a crew member behind. So with his team scattered to the winds following the destruction o the Enterprise -- again -- Kirk has to cook up a plan to retrieve the friends that are being held captive. The solution is a spectacular set piece involving hologram Kirks riding a "vintage" motorcycle, and it's the reason Justin Lin was brought on board the Star Trek franchise after the departure of J.J. Abrams. Lin understands how to stage kinetic, creative action that keeps focus n character and observes the ticking clock of a good set piece. There are several memorable action moments in Beyond, but this one was my favorite.
Read Our Review of Star Trek Beyond
3. The Leap Of Faith, Deepwater Horizon
Peter Berg, again, because this has been a solid year for the Battleship director (mainly because he stopped making movies like Battleship). This year, Berg and his preferred leading man Mark Wahlberg collaborated on two hard-hitting, ripped-from-the-headlines stories of heroism performed by average Joes -- an antidote to the costumed superheroes sitting atop the box office charts. And as the offshore oil rig Deepwater Horizon burned, the last people on it (portrayed by Wahlberg and Gina Rodriguez) had to pull off a miraculous jump that, in reality, should have left them for dead. It's a spectacular, heart-pounding sequence, and one that cemented Berg and Wahlberg as a duo to keep an eye on for years to come.
Read Our Review of Deepwater Horizon
2. Darth Vader in a Hallway, Rogue One: A Star Wars Story
The moment Star Wars fans have been waiting for, ever since Anakin slipped into the suit that sustains him following the fiery end of his battle with Obi-Wan Kenobi. Darth Vader, in all of his murderous glory. The plans to his prized Death Star are being passed from one Rebel Alliance soldier to the next. Vader wants to retrieve them, before they land in the hands of his daughter, Princess Leia (Carrie Fisher). In a vicious scene, Vader plows through men with ease, choking them, stripping them of his weapons, and plunging his lightsaber through one man's chest. Wanna see it again, in LEGO form? Click here.
1. The Airport Battle, Captain America: Civil War
The pinnacle of the MCU's action sequences, and the best action scene of 2016. How on Earth did we actually build to this? It took several movies for it to all make sense, but the payoff was worth the wait. Team Iron Man stands off against Team Cap, with every Marvel hero introduced to date contributing to the conflict. Including newcomers Black Panther (Chadwick Boseman) and Spider-Man (Tom Holland). Feelings are hurt. Spines are damaged. And the Avengers are no more following the conflict in Captain America: Civil War, meaning bridges have to be repaired before we get to Infinity War. If you grew up reading comics, the site of these Marvel icons battling on the big screen was the stuff of geek dreams. In 2016, for action-movie junkies, it didn't get much better than this.
Sean O'Connell is a journalist and CinemaBlend's Managing Editor. He's frequently found on Twitter at @Sean_OConnell. ReelBlend cohost. A movie junkie who's Infatuated with comic-book films. Helped get the Snyder Cut released, then wrote a book about it.
Your Daily Blend of Entertainment News
Thank you for signing up to CinemaBlend. You will receive a verification email shortly.
There was a problem. Please refresh the page and try again.