The X-Men: Apocalypse Sequel May Have A New Title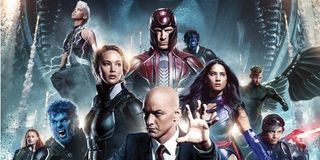 There's no shortage of iconic X-Men storylines. For years the misunderstood heroes from the Marvel lore have represented a mainstay in the world of comics, and their adventures have become endlessly legendary. However, there's one storyline that rises above the rest, and it seems that the X-Men franchise is about to give it a proper adaptation. New rumors suggest the possibility that 20th Century Fox has tentatively titled the next X-Men movie, X-Men: Supernova and that seems to indicate that some major things are coming for Sophie Turner's Jean Grey in the near future.
A recent issue of Production Weekly (via Comicbookmovie.com) confirms that 20th Century Fox apparently has two separate X-Men titles currently in development. In addition to X-Men: The New Mutants (which we have known about for quite some time) it appears that the studio is also working on a project called X-Men: Supernova. While that immediately sounds like a badass movie title, it also seems like a strong indication that we may see The Dark Phoenix Saga play out correctly on the silver screen.
The word "Supernova" jumps out at us because it implies that the next X-Men movie will introduce more cosmic-based science fiction ideas into this universe. In its original publication, The Dark Phoenix Saga centered on Jean Grey finding herself exposed to the radiation of a solar flare. However, instead of being killed by the event, Grey is subsequently mutated by the radiation, thus amplifying her powers and turning her into the evil Dark Phoenix. It's one of the most iconic storylines in the history of the X-Men lore, and fans have waited for a proper adaptation for years -- we choose to ignore Brett Ratner's terrible version of the storyline in 2006's X-Men: The Last Stand.
Logistically it makes quite a bit of sense for the newly rebooted X-Men continuity to take on the Dark Phoenix storyline. Although the bulk of Apocalypse's story revolved around the conflict with Oscar Isaac's En Sabah Nur, the film also spent quite a bit of time setting up the idea that Jean Grey has more power than she realizes. That movie ended with her embracing the full extent of her abilities, and it seems that she may have unwittingly opened a sort of Pandora's Box that could end in tragedy for her.
Of course, it's worth noting that the movie might not be called "Supernova" by the time it hits theaters. The current subtitle could simply be a placeholder for another version of the title -- such as X-Men: Dark Phoenix. That said, Supernova still seems like a reliable sign that a traditional version of The Dark Phoenix Saga may be on the horizon.
We will bring you more information related to the future of the X-Men franchise as more information is made available to us. If the next big X-Men movie is called Supernova, then we have a feeling that Jean Grey's story is about to get very, very intense. Stay tuned for more details!
Your Daily Blend of Entertainment News
Originally from Connecticut, Conner grew up in San Diego and graduated from Chapman University in 2014. He now lives in Los Angeles working in and around the entertainment industry and can mostly be found binging horror movies and chugging coffee.
Your Daily Blend of Entertainment News
Thank you for signing up to CinemaBlend. You will receive a verification email shortly.
There was a problem. Please refresh the page and try again.