John Wick Brings His Dog To A Legendary Location In The First John Wick 2 Clip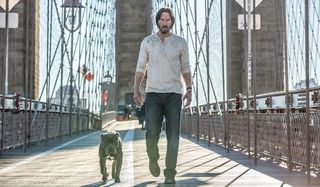 John Wick is a man who loves dogs. Sadly, the puppy given to him by his late wife was horribly murdered at the beginning of the 2014 movie, but by the end of that story, he'd found a pitfall puppy to bring home with him. Fortunately, it looks like the new dog will have more to do in John Wick: Chapter Two, as evidenced by a new clip showing John bringing his canine friend to a familiar hotel.
One of the elements that made John Wick special was the Continental, the hotel where assassins and other organized crime figures can safely stay which is considered neutral ground. In other words, the members of the criminal underworld aren't allowed to kill anyone else within its walls, otherwise they will face the consequences. In the John Wick: Chapter Two clip posted by Lionsgate Movies, Keanu Reeves' John is seen returning to the Continental with his pitfall pal in tow and has a brief chat with the concierge, Charon, played by Lance Reddick. Charon is visibly surprised to see John back so soon after his recent rampage, but performs his duties nonetheless and lets the ex-assassin go ahead to see the Continental's manager. John orders the dog to stay in the hotel's lobby, leading to an amusing stared-down between the animal and human.
The main events of John Wick kicked off when a group of idiot Russian gang members broke into the eponymous protagonist's house to steal his car and kill his new puppy. They and everyone associated with that criminal empire were swiftly eliminated by John, and at the end of the movie, the assassin found a pitbull puppy that was going to be euthanized and rescued it. Whether the dog will just be traveling with John or he'll get to take part in a little action remains to be seen. It might be cool to at least see the pit bull sink its teeth into one of its owner's opponents. As long as that doesn't happen inside the Continental, it should be okay.
Taking place shortly after the events of the first movie, John Wick: Chapter Two will follow the main protagonist as he travels to Rome to help a former associate take control of a secret international assassins organization. Along with Keanu Reeves and Lance Reddick, the returning characters include Ian McShane as Winston, Bridget Moynahan as Helen Wick, John Leguizamo as Aurelio, David Patrick Kelly as Charlie and Thomas Sadoski as Jimmy. The new players include Riccardo Scamarcio as Santino, Ruby Rose as Ares, Laurence Fishburne as The Bowery King and Common as the still-unidentified head of security for a female crime lord.
John Wick: Chapter Two hits theaters on February 10.
Your Daily Blend of Entertainment News
Connoisseur of Marvel, DC, Star Wars, John Wick, MonsterVerse and Doctor Who lore. He's aware he looks like Harry Potter and Clark Kent.
Your Daily Blend of Entertainment News
Thank you for signing up to CinemaBlend. You will receive a verification email shortly.
There was a problem. Please refresh the page and try again.