Who Green Lantern Corps May Be Considering To Play Hal Jordan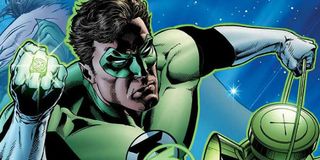 The DC slate has undergone a ton of changes and developments in recent weeks, and one of the most fascinating films to follow has been Green Lantern Corps. With the promise of a "Lethal Weapon in Space" formula, the adventures of Hal Jordan and John Stewart are going to be unlike anything we have ever seen in the silver screen DC universe, and that's worth getting excited about. And our anticipation has officially kicked into high gear, as we have just learned that DC has reportedly narrowed the shortlist of possible Hal Jordan actors down to Tom Cruise, Joel McHale, Bradley Cooper, Ryan Reynolds, Armie Hammer, and Jake Gyllenhaal.
That's seriously an impressive shortlist of actors, and it's hard to know what to make of it. To help you make sense of it all, we have decided to separate each of these A-listers and figure out whether or not they have what it takes to play The Emerald Knight. Now let's get started with the man who will likely be the most polarizing choice for Hal Jordan.
Tom Cruise
If DC came out and announced Tom Cruise as Hal Jordan for the DCEU, there's a strong case that such a casting announcement would probably receive an avalanche of backlash. That said, despite the fact that Tom Cruise has become a polarizing figure in Hollywood over the years, it's hard to deny the fact that he's kind of tailor-made for a role like Hal Jordan. Playing a cocky hotshot is second nature for him, and he has a proven ability to nail action-comedy hybrids. Besides, even at 54-years-old the guy still looks as good as he did when Top Gun hit theaters. Leave your preconceived notions at the door; this could work.
Joel McHale
If Tom Cruise has the potential to be the most controversial choice for Hal Jordan, then this one is the most blatantly bizarre option. Joel McHale has become widely known for his comedic roles over the years, and he's not the first person who comes to mind when we think of Hal. That said, McHale does play arrogant characters very well, and the fact that he's a comedic actor doesn't necessarily preclude him from turning in an excellent performance as Green Lantern. Remember all of those naysayers who said Micheal Keaton would suck as Batman? McHale doesn't seem like the strongest frontrunner, but there's potential if you look a little bit deeper.
Bradley Cooper
Regardless of the fact that he already has a role over at Marvel (albeit in voiceover form), Bradley Cooper could make a solid addition to Green Lantern Corps as Hal Jordan. He certainly looks the part, and he can deliver comedy and drama in equal measure. On the other hand, it's worth questioning whether or not Cooper is the right choice for Hal. Should he play a Green Lantern? Absolutely, but I think Bradley Cooper's particular talents as an actor would serve him better in the role of Guy Gardner. If future sequels to Green Lantern Corps decide to expand the scope of the Corps, then DC should certainly keep him in mind for Guy.
Ryan Reynolds
This one is arguably the most interesting choice of the bunch. Ryan Reynolds wasn't necessarily miscast as Hal Jordan in 2011's Green Lantern, but that movie has gone down in the annals of comic book movie history as a complete misfire. Reynolds has remained vocal about his personal distaste for the film, and he seems reasonably comfortable in his current role as Deadpool; he has even previously stated that Wade Wilson will be the last superhero he ever plays. For him to go back on that statement now seems unlikely -- particularly if it specifically means going back to the role of Hal Jordan. At this point, a fresh slate seems like the best option for everyone.
Armie Hammer
Out of all the actors on this list, arguably no one looks more like the comic book version of Hal Jordan than Armie Hammer. The guy is an imposing beast of a man, and he has all of the important attributes of a proper Green Lantern. He's also the youngest actor in the running, which makes him very appealing to DC if they want to keep Hal Jordan around for a while. However, we should also take into account the fact that Armie Hammer does not have the best track record when it comes to headlining potential blockbusters. Because The Man From U.N.C.L.E. and The Lone Ranger both fell flat for Warner Bros., it's worth questioning whether or not DC wants to gamble on him as the face of another franchise.
Jake Gyllenhaal
Last but not least we have Jake Gyllenhaal in the running for the role of Hal Jordan. Like all of the other entries on this list, Gyllenhaal is an undeniably talented actor, and he has a proven ability to deliver the comedy and drama that a role like Hal Jordan requires. Having said that, I think Gyllenhaal is similar to Bradley Cooper in the sense that he might be better suited for another Green Lantern role in the DCEU. If the Green Lantern Corps franchise ends up experiencing any sort of longevity in the near future, DC should consider keeping Gyllenhaal on the back burner to potentially cast him as Kyle Rayner instead.
Your Daily Blend of Entertainment News
Originally from Connecticut, Conner grew up in San Diego and graduated from Chapman University in 2014. He now lives in Los Angeles working in and around the entertainment industry and can mostly be found binging horror movies and chugging coffee.
Your Daily Blend of Entertainment News
Thank you for signing up to CinemaBlend. You will receive a verification email shortly.
There was a problem. Please refresh the page and try again.