Armie Hammer Will Struggle To Survive The Desert In 'Mine'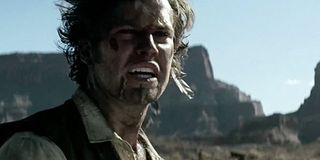 The classic "Human versus The Elements" formula has been finding new life at the multiplex in recent years. Liam Neeson turned it into a surprise hit a few years back with The Grey, and Sandra Bullock gave us an even more successful version of that story with last year's Gravity. In a world where it's easy to start stacking A-list cast members in a story of survival, it's sometimes the best idea to focus on just one very talented actor that could use a break. Which is exactly the situation Armie Hammer has found himself in after last year's disastrous The Lone Ranger, and as luck (or a really good agent) would have it, he's landed himself just that type of role in a project named Mine.
Co-directed and co-written by relative unknowns Fabio Guaglione and Fabio Resinaro, Variety describes Mine as a film about:
While this does indeed look like it could be a good dose of career rehab for The Social Network co-star, Armie Hammer does seem like he's already trying to hedge his career bets with Guy Richie's The Man From U.N.C.L.E. However, there's no definite indication that project will be a hit, as it's yet another re-imagining of a 1960's spy show for a more modern audience. It didn't work for Get Smart, as the film was mildly successful but not exactly a franchise the public was screaming for. On the other hand, it could be another Sherlock Holmes, with Henry Cavill in the lead role of Napoleon Solo (assuming Cavill can conjure the charisma of Robert Downey Jr.)
Still, between The Grey and Taken, Liam Neeson wrote himself a ticket to becoming a career bad ass and hasn't stopped filling the role since. Nesson's path can be Armie Hammer's, because he definitely has the chops to pull off a role like this. He just needs the right vehicle to display them throughout. With two relative unknowns in the director and writer's chairs, Mine could go either way. Variety does mention that they did gain some notoriety on the festival circuit with their short Afterville, so perhaps this is just a case of talent waiting for the right opportunity to bust out.
Whatever the case, Armie Hammer needs a hit, and a big one, within the foreseeable future. A flop as big as The Lone Ranger isn't something a leading actor can just walk away from, as we've seen with Johnny Depp's struggle to maintain his clout with Transcendence. If the wheels start falling off of Mine, perhaps Mr. Hammer can walk away from this project and let someone else purchase the script in turnaround. Someone like, say, Matt Damon and Paul Greengrass, who can turn it into their next Bourne thriller. After all, they are looking for a story idea that would make perfect sense, and this could be the story they're looking for.
No clue when we'll see Mine start to ramp up production, but The Man From U.N.C.L.E. will be in theaters on January 16th, 2015.
Your Daily Blend of Entertainment News
Senior Movies Contributor
CinemaBlend's James Bond (expert). Also versed in Large Scale Aggressors, time travel, and Guillermo del Toro. He fights for The User.