New King Arthur Teaser Is Epic And Action Packed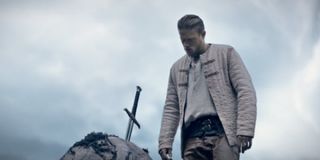 Some stories are absolute classics, but that does not mean that they cannot receive an update for modern audiences. Guy Ritchie has proven himself capable of such endeavors with his work on the Sherlock Holmes franchise, and he will soon do it again for King Arthur with King Arthur: Legend of the Sword. A new trailer for the upcoming medieval summer epic has jut hit the web, and it looks like a seriously wild ride. Check out the trailer below to see for yourself.
Let's be perfectly honest with one another about something. Guy Ritchie's King Arthur: Legend of the Sword has not become the most highly anticipated movie of 2017. There are so many major franchise films hitting theaters within the next year, and this movie's release date has already been moved so many times that many of us have put it on the back burner. That said, this trailer has me completely sold on the upcoming King Arthur adventure. From epic battle sequences to foot chases, to leaps of faith off of huge cliffs, the film appears jam-packed with excellent action. If nothing else, we can definitely confirm that our heart rates will be extremely elevated while watching the upcoming King Arthur adventure.
Aside from the fact that the action in King Arthur: Legend of the Sword looks phenomenal, it also has the telltale appearance of a Guy Ritchie action movie. In particular, there is one moment in the trailer in which we see Arthur (Charlie Hunnam) running for his life from an unseen threat in a medieval town. The sequence uses a Snorricam-esque technique to make the frame move with him as he runs -- you can see it for yourself at the 20-second mark. It is an effect that the director has become well known for over the course of his career, and he used it to great effect during previous movies like RocknRolla, and Sherlock Holmes: A Game of Shadows. One thing is very clear: Guy Ritchie is nothing if not distinctive in the filmmaking community, and he likes to set himself apart.
Beyond the action and production aspects of King Arthur: Legend of the Sword's latest trailer, this preview also serves as a solid reminder of the film's core thematic premise. This is not your grandfather's version of King Arthur; in fact, he is not even a king. The film is a story about an outlaw's adventure to become the most legendary king of all time, and that relatively straightforward and iconic premise will pave the way for a solid hero's journey arc.
As always, CinemaBlend will keep you up to date with more information related to this film as more details become available to us. Guy Ritchie's King Arthur: Legend of the Sword will hit theaters this summer on May 12, 2017.
Your Daily Blend of Entertainment News
Originally from Connecticut, Conner grew up in San Diego and graduated from Chapman University in 2014. He now lives in Los Angeles working in and around the entertainment industry and can mostly be found binging horror movies and chugging coffee.