Mary Poppins Returns Just Added Angela Lansbury, Here's Who She'll Play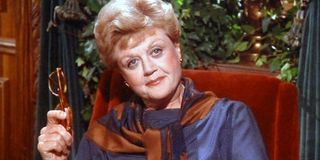 The casting for Mary Poppins Returns has been very much on point ever since the long awaited sequel was announced by Disney. But the news that Angela Lansbury has been cast as the Balloon Lady classes up the film even more, as the five-time Tony Award winner will invariably bring an extra elegance to Mary Poppins Returns that will immediately make you want to curtsy.
Disney released a statement confirming Angela Lansbury's addition to the Mary Poppins Returns posse, and rather than having the internet guess over who she'll be portraying, the studio immediately put us out of our misery by confirming that she's the Balloon Lady, who is a character from P.L. Travers' original books.
The presence of Angela Lansbury in Mary Poppins Returns is yet another connection between the film and classic Disney films of yore. That's because Angela Lansbury has popped up in the likes of Beauty And The Beast, where she voiced Mrs. Potts, as well as Bedknobs And Broomsticks, too.
The 91-year-old's undeniable talent, which has seen her develop a wonderfully eclectic CV over her 70-year career, has also seen her nominated for three Academy Awards for her performances in Gaslight, The Picture Of Dorian Gray and The Manchurian Candidate. After these near misses, the Academy decided to bestow her with an honorary Oscar back in 2013.
Angela Lansbury's casting in Mary Poppins Returns had actually been anticipated for quite a while. That's because Dick Van Dyke, who is also set to return to the film, accidentally let it slip during an interview with The Hollywood Reporter, via the BBC, in December, where he said of Mary Poppins Returns, "It's a great cast -- Meryl Streep, Angela Lansbury, and that guy from Hamilton." Otherwise know as Lin Manuel Miranda.
Set in 1930s depression-era London, 20 years after 1964's Mary Poppins, screenwriter David Magee (Life Of Pi, Finding Neverland, Miss Pettigrew Lives For A Day) devised Mary Poppins Returns from P.L. Travers' additional seven books from the series. In Mary Poppins Returns, Michael and Jane from the original film are all grown up, and will be portrayed by Ben Whishaw and Emily Mortimer. We even know Michael's address, as he lives on the legendary Cherry Tree Lane with his tree children and their housekeeper Ellen (Julie Walters).
But after Michael suffers a tragic personal loss, Mary Poppins (Emily Blunt) returns to the lives of the Banks family, while she also brings along for the ride the eternally optimistic street lamplighter Jack (Lin-Manuel Miranda). As you'd expect, Mary Poppins soon starts to use her unique magical skills to try and help the family rediscover the joy and wonder that had gone missing from their lives. This includes introducing the children to various eccentric and whimsical characters, one of which includes her cousin Topsy (Meryl Streep). Just in case you didn't think the film was British enough, Colin Firth is part of the cast, too.
We'll get to see them all in action when Mary Poppins Returns is finally released on December 25, 2018, while director Rob Marshall (Into The Woods, Chicago) recently began production at Shepperton Studios on the film.
Your Daily Blend of Entertainment News
Your Daily Blend of Entertainment News
Thank you for signing up to CinemaBlend. You will receive a verification email shortly.
There was a problem. Please refresh the page and try again.