King Arthur Trailer: Charlie Hunnam And Excalibur Make An Exciting Combination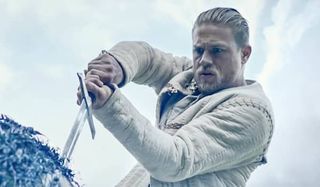 Usually when a blockbuster's release date is pushed back twice, it's a sign that the film has been beset with problems and the studio has lost faith in it. But each additional trailer for King Arthur: Legend Of The Sword suggests that won't be the case with the epic action adventure. The latest King Arthur trailer once again proves that there's plenty to be excited about with the film, which, even though it has a Roman setting, has a very modern aesthetic and style.
Very encouraging stuff. Having achieved success by adopting a modern, visceral style for his two Sherlock Holmes films, which grossed a combined total of $1.69 billion at the box office, as well as received positive reviews, Warner Bros appear to have given Guy Ritchie free reign to utilize the same approach with King Arthur: Legend Of The Sword.
Along with possessing a similar look and style to 2009's Sherlock Holmes and its 2011 follow-up Sherlock Holmes: A Game Of Shadows, the opening of the trailer suggests that it will follow a similar trajectory to Star Trek, too. That's because it makes it quite clear that Eric Bana's character dies in the early stages, and this spectre then hangs over Charlie Hunnam's Arthur.
Because of the death of his mother and father, Arthur is unaware of the royal lineage that he has. That all changes, though, when he pulls the sword Excalibur from the stone. This provokes Arthur to join the Resistance and try to overthrow the tyrant king Vortigen (Jude Law), who just so happens to be the one that killed Arthur's parents in order for him to steal the crown.
I'm gunning for King Arthur: Legend Of The Sword to find an audience when it's released later this summer. Whether it will actually do so remains to be seen, and it will very much depend on how the critics react to it when it does actually hit theaters.
Warner Bros's decision to move King Arthur: Legend Of The Sword might actually prove to be a stroke of genius, though. That's because its only competition on the weekend of May 12 will come in the shape of Snatched, the comedy that sees Goldie Hawn and Amy Schumer playing a mother and daughter whose holiday goes awry.
In fact, King Arthur: Legend Of The Sword's biggest competition will probably come from a certain comic book film that's being released just a week before, as Marvel Studios expects Guardians Of The Galaxy Vol. 2 to challenge the $773 million haul of its predecessor. There's not too much room for King Arthur: Legend Of The Sword to make an impression, too, as it will be followed by Alien: Covenant on May 19.
We'll find out if it can succeed when King Arthur: Legend Of The Sword is released on May 12.
Your Daily Blend of Entertainment News