One Thing Jimmy Kimmel Swears He'll Do During The Oscars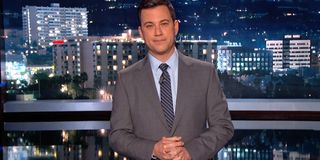 As the host of his titular talk show since 2003, Jimmy Kimmel knows plenty about keeping his audience entertained. He'll be bringing some of these tricks of the trade over to his hosting gig at the 2017 Academy Awards, and he's now revealed that his first deed at the event will be making sure that the crowd is very well fed. Otherwise he believes that they will just be unhappy because they'll be starving.
Jimmy Kimmel made the first revelation regarding his performance at the 2017 Academy Awards during his discussion with The Hollywood Reporter, insisting that he knows his audience is more likely to laugh at his quips if they're full of food. However, he promised that he won't copy the hosting efforts of Ellen DeGeneres and Chris Rock, both of whom gave food to the audience when they oversaw the Oscars. Jimmy Kimmel explained,
While Jimmy Kimmel insisted that he won't be copying the efforts of Ellen DeGeneres and Chris Rock, he probably should reconsider. That's because when Ellen DeGeneres gave the crowd pizza at the 86th Academy Awards, and then asked the likes of Harvey Weinstein, Lupita Nyong'o and John Travolta to tip the delivery man, it not only immediately ranked as one of the highlights of her performance, but it turned the delivery man into a celebrity for a few days, too.
Chris Rock then looked to top Ellen DeGeneres' antics by handing out cookies at the 2016 Academy Awards, which he insisted raised over $65,000 for Girl Scout Cookies. However, it has since been alleged that the bit was slightly exaggerated, and he in fact only raised about $2,500. The shame!
We'll see if Jimmy Kimmel can match Chris Rock and Ellen DeGeneres' attempts when he hosts the 89th Academy Awards in just a few days time. Here's a trailer for Kimmel's hosting gig at the Oscars below
The 89th Academy Awards will unfold (and La La Land will invariably dominate) when the event takes place this coming Sunday at 8:30 p.m EST/5:30 p.m. PST.
Your Daily Blend of Entertainment News