James Bond 25 Could Be Inching Closer To Reality As Location Rumors Swirl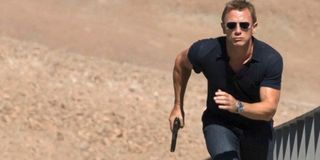 James Bond fans have been waiting patiently for news on a sequel to 2015's Spectre ever since 007's 24th outing was released. News has hardly been forthcoming over the last 16 months, though, especially since we don't even know if Daniel Craig will be reprising the leading role for what would be the fifth time. But the latest information regarding James Bond 25 suggests that the film is finally gaining some momentum and will in fact be entering production sooner rather than later. It has now been alleged that the Croatian city of Dubrovnik will be used as a location.
According to Mi6-Hq.com, Dubrovnik's mayor Andro Vlahusic confirmed that the city will be used in the next James Bond film, even going as far as to insist that negotiations with EON are at an advanced stage. During a press conference to discuss the fact that the Robin Hood: Origins will be shooting in the city, Andro Vlahusic couldn't help but also slip in, "James Bond is in an advanced stage of negotiations," too.
Dubrovnik is well equipped to host such a seismic production. As well as the impending Robin Hood reboot, which stars Taron Egerton, Jamie Dornan, Jamie Foxx and Ben Mendelsohn (and will be directed by Otto Bathurst), the city has also been used as King's Landing on Game Of Thrones throughout its run, too. Plus, Dubrovnik will also be used for location shooting on the next Star Wars film, even though the studio work for that movie will actually be based in Pinewood Studios. Which also just so happens to be the home of 007.
This isn't the first time that it has been alleged that the city of Dubrovnik will be used as a location in James Bond 25. In fact, about 12 months ago, Andro Vlahusic took it upon himself to reveal that financial negotiations with EON had just begun. Clearly it took a year to iron out the nitty-gritty detail of the deal. Or it might just be that EON are now finally ready to get started on production for James Bond 25. That would suggest that Daniel Craig has signed on to a fifth film, or that they've lined up his replacement.
At the moment, all we can do is guess on who will actually be leading James Bond 25. The revelation earlier this week that Daniel Craig is now the second longest-serving 007 of all time behind Roger Moore might be an inkling that his time will soon come to an end. However it is a pretty meaningless "accolade," because while he has been James Bond for over a decade, he has only starred in four James Bond films, while Roger Moore is on seven and Sean Connery is on six (not including the unofficial 007 film Never Say Never Again).
After insisting during promotion for Spectre that he'd rather "slit his wrists" than play James Bond again, Daniel Craig has substantially mellowed on the suggestion in recent months. However, as recently as today, bookmakers revealed that Michael Fassbender and James Norton were now the favorites to replace him in the role. For the time being, though, we'll just have to sit tight and wait for more news.
Your Daily Blend of Entertainment News