How James Bond May Change To Keep Daniel Craig As 007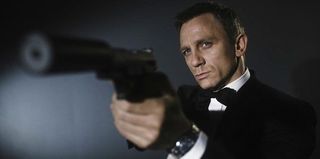 During the build up to the latest James Bond adventure, Spectre, there was a lot of talk about whether or not Daniel Craig would be back to play the iconic spy for another movie. He is reportedly contracted for one more, but at one point during the press rounds he also said the thought of playing the character again made him want to slash his own wrists. The folks in charge certainly appear to want Craig back for the 25th James Bond movie, and are considering pushing it back in order to accommodate his schedule.
It was recently announced that Daniel Craig will star in the 20-part series Purity, which will reportedly film fairly soon. This led many to presume that this meant the end for Craig as James Bond, as MGM hoped to get a new film into theaters by next year. But a source told Yahoo that:
Though the studio has an eye on releasing Bond 25 sooner rather than later, it sounds like they are more concerned with having Daniel Craig back in the role than sticking to any particular timeline. And who can blame them? Despite the outcry over his initial casting (he's, gasp, blond!), it didn't take Craig long to win fans over, as his first outing, Casino Royale, showed off a darker, grittier version of the character that was both different from previous incarnations but was also in keeping with the origins of the character.
Then there's the fact that Daniel Craig's James Bond movies have been quite profitable. Sure, Spectre was met with lukewarm reviews, but it still took in $879 million worldwide, which isn't too shabby. The previous film, Skyfall, was the first Bond film to top $1 billion, and even the low earners in Craig's tenure, Casino Royale and Quantum of Solace, still earned in the high $500 million range. There's obviously something about Daniel Craig playing James Bond that appeals to wide audiences around the globe.
Also, casting another James Bond is a huge pain in the ass, and a process that takes time. No matter who you choose, people will be pissed off, and finding the right actor will eat up months. If the studio has to push back the next film, but is able retain an actor that fans already know and have a connection to, that's probably a knock they're willing to take.
According to the report, Daniel Craig hasn't told anyone definitively whether or not he'll return to play James Bond for a fifth time, but it certainly sounds like MGM has their fingers crossed that he comes back for one more ride.
Your Daily Blend of Entertainment News