Michelle Rodriguez's Secret Alita: Battle Angel Role Has Been Revealed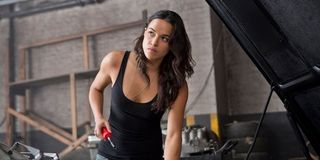 Even though Alita: Battle Angel's shoot has just wrapped, Michelle Rodriguez's participation in the film has been kept under wraps for all of its production. It's now been decided that the world should know that The Fate Of The Furious and Avatar actress is actually involved in the adaptation of the lauded manga, while it has also been revealed that she'll play Gelda in the film, too.
Entertainment Weekly was the first to learn of Michelle Rodriguez's involvement in Alita: Battle Angel, which is an adaptation of Yukito Kishiro's 1990s beloved saga. They revealed that she has joined an already hugely impressive ensemble as Gelda, a cyborg who was born on Mars and is a highly skilled warrior.
Set in the future, Alita: Battle Angel sees Rosa Salazar playing the titular character, a cyborg girl who is rescued from a junkyard by Christoph Waltz's scientist Dr. Dyson Ido. Ido looks to rebuild Alita, and together they then set out to explore her mysterious past. As well as Salazar, Waltz and Rodriguez, Keean Johnson plays Hugo, who is Alita's love interest that also teaches her how to play Motorball, a gladiator style game.
Mahershala Ali, who will vie for the Best Supporting Actor Academy Award on Sunday after his stunning performance in Moonlight, portrays Vector in Alita: Battle Angel. Vector is clearly quite a dodgy character, as he rigs Motorball combat matches. The cast for Alita: Battle Angel is rounded off by Ed Skrein, Lana Condor, Jackie Earle Haley, Jennifer Connelly and Eiza Gonzalez.
But it's not just in front of the camera where Alita: Battle Angel is shaping up nicely. That's because Robert Rodriguez (El Mariachi, From Dusk Till Dawn, Desperado) is directing the film from a script by Laeta Kalogridis (Shutter Island). The most exciting element behind the scenes, though, is the involvement of James Cameron.
Because of his exploits on the Avatar sequels, James Cameron's role in Alita: Battle Angel has been reduced to that of producer, alongside his long-time producing partner Jon Landeau. It's not known exactly how much creative input James Cameron has had to the script that was eventually filmed. However, it's probably safe to assume that his involvement has only profited Alita: Battle Angel rather than hindered it.
Despite the fact that shooting on the film, which took place in Austin, Texas between October and February, has now come to an end, post-production on Alita will be rather brutal, as it's going to require an extensive amount of visual effects. While Alita is live-action, a copious amount of CG will be used for its backgrounds, as well as to modify the bodies of the cyborgs, and to even alter the actor's faces. We'll get to see if it was worth all the fuss when Alita: Battle Angel is released on July 20, 2018.
Your Daily Blend of Entertainment News
Thank you for signing up to CinemaBlend. You will receive a verification email shortly.
There was a problem. Please refresh the page and try again.