Watch Halle Berry Strip Out Of Her Oscar Dress After The Show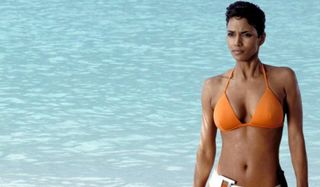 At one time or another, we've all been forced to wear an item of clothing that makes you look superb, but is actually remarkably uncomfortable. Cleary Halle Berry had to do just that at the 89th Academy Awards. That's because she took to Twitter to celebrate finally being able to take off her Atelier Versace dress, which she followed up by going skinny-dipping in a swimming pool. You can check out the slow-motion video footage of Halle Berry shedding her clothes below.
The song that Halle Berry played over the top of her stripping down and jumping into the pool was Bruno Mars' aptly entitled "Versace On The Floor."
Halle Berry had been invited by the Academy Awards to present the award for Best Director, which ultimately went to La La Land's Damien Chazelle. Of course, the entire kerfuffle that saw Faye Dunaway and Warren Beatty pick up the wrong envelope and accidentally reveal that La La Land had won Best Picture, when in actually fact it was Moonlight, somewhat overshadowed both Halle Berry's dress and everything else that went on during Sunday's Academy Awards.
This was actually the first time in four years that Halle Berry had walked down the red carpet at the Academy Awards, and she immediately drew plenty of plaudits for her stunning ensemble. It wasn't just the press and those watching at home that were taken by Halle Berry's look, though, as she was even captured exchanging niceties with Scarlett Johansson before she spoke to Ryan Seacrest about why she picked this dress. You can check out the discussion below.
Of course, Halle Berry secured her place in Oscar folklore all the way back in 2002 when she won the Academy Award For Best Actress for her performance in Monster's Ball. She is still the only African American woman to win this accolade, and the emotion of crossing this threshold proved so much for Halle Berry that she gave one of the most heart-wrenching speeches in the ceremony's history. You can take a trip back in time and relive this moment by watching footage of her being immediately blown away by this success below.
Those of you wondering when we'll next get to see Halle Berry on the big-screen will be relieved to hear that both Kidnap and Kingsman: The Golden Circle are due to be released on March 10 and October 6, respectively.
Your Daily Blend of Entertainment News