Halle Berry May Join Kingsman 2, Here's Who She'll Play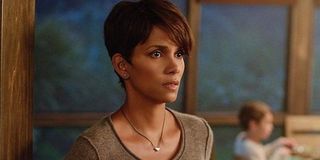 Unless something drastic happens, you know, like a cure for death is discovered, we don't really expect Kingsman: The Secret Service star Colin Firth to be back for the sequel. It is a movie, so I guess anything is possible, and there's the chance he could play a different character, but that's all just pipe dream speculation. However, it appears Kingsman 2 is moving on, as they've been adding to the cast, and they just landed an Oscar-winner in Halle Berry. And she hasn't only signed on for Kingsman 2, as her deal reportedly also includes Kingsman 3.
Kingsman: The Secret Service was a something of a surprise hit last year, earning a strong $415 million worldwide and making Taron Egerton a name people know now. There have been rumblings that the action will shift to American soil for Kingsman 2. Deadline reports that Halle Berry is in talks for both that film and another, and her role seems to support the new location theory. According to the trade, if the Oscar winning actress does indeed sign on the dotted line, she'll play the director of the CIA.
This deal would reunite Halle Berry with 20th Century Fox, where she appeared as the mutant Storm in four X-Men movies. Though Kingsman: The Secret Service is also based on a comic book, it's a very different kind of animal, more concerned with gadgets and spying than superpowers and spandex suits. Though I guess both do often feature saving the world, so there's that.
Matthew Vaughn, who directed Kingsman: The Secret Service, is back in the big chair for Kingsman 2. Taron Egerton is also set to reprise his role as Eggsy, a resourceful street tough who is recruited into an elite, and secret, society of special agents who routinely stop nefarious plots from destroying the world and that sort of thing.
If Halle Berry does indeed wind up playing the head of the CIA, especially if it across multiple movies, it sounds like Eggsy may be teaming up with the Americans in some capacity. In addition to Berry, Kingsman 2 has also added some additional star power, and another Oscar winner, as Julianne Moore is reportedly in discussions to play the villain in the film. That sounds like a great deal of fun from where we sit. Moore is so good in everything she does, the idea of her showing up as some sinister, comic book-ish supervillain is too tempting to deny.
Though we won't see her as Storm (that role's been filled by Alexandra Shipp) in X-Men: Apocalypse, we will see Halle Berry later this year in the thriller Kidnap, which, you may have guessed, prominently features a kidnapping.
Kingsman 2 is scheduled to film this summer and is slated to hit theaters on June 16, 2017. There's no word about Kingsman 3, but given the success of the first one, it's not a huge surprise that the studio may be planning ahead and looking to the future of the franchise.
Your Daily Blend of Entertainment News
Thank you for signing up to CinemaBlend. You will receive a verification email shortly.
There was a problem. Please refresh the page and try again.