See What Zac Efron Would Look Like As Nightwing In The DCEU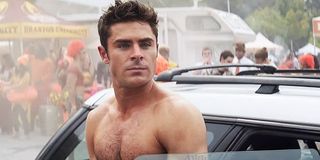 Now that DC has officially announced a Chris McKay-helmed Nightwing movie, many fans have started to cast their favorite actors to hypothetically take on the legendary hero. We've seen plenty of great suggestions thrown out, but one name that keeps popping up is Zac Efron. It's an intriguing casting prospect, and a new picture has surfaced online showing what the actor could look like as the silver screen Dick Grayson. Check it out below to see for yourself.
There are two schools of thought when it comes to whether or not Zac Efron would make a good choice for the role of Nightwing, so let's start with the reasons why it could work. As you can pretty clearly see from that BossLogic mock-up: he looks the part. The guy is an incredibly athletic actor, and at 29-years-old he seems like a perfect age to take on a more seasoned version of Dick Grayson. Beyond that, he's a charismatic actor with great comedic timing, so he could easily pull off the more lighthearted side of Nightwing.
On the other hand, Zac Efron has never really performed in a genuine action movie, and it remains to be seen if he can deliver the hard-hitting and gritty performance that a Nightwing movie would require. He has played the part of teen heartthrob, and he's done raunchy comedies over the course of the last few years, but we have never seen him do anything like this. With so little experience in the action genre, it might be a better idea for DC and Warner Bros. to hand off this iconic character to someone like Dylan O'Brien -- who has far more experience in special effects-driven films.
That said, don't rule Zac Efron out just yet. He may lack true superhero experience, but people mocked the casting of Heath Ledger as The Joker and Michael Keaton as Batman during their respective eras as well. We don't necessarily know what Efron's capable of, and Nightwing could represent his chance to prove himself.
It might also be worth it to mention the fact that Zac Efron has been practicing his Batman voice since Neighbors hit theaters in 2014.
He still has way to go before he perfects the gravelly voice of The Caped Crusader (Christian Bale isn't the best source of inspiration on that front) but maybe he will figure it out if DC ever decides to do a live-action version of Battle for the Cowl or The Black Mirror within the next few years.
CinemaBlend will bring you more information related to the Nightwing solo movie as more updates related to the film become available to us.
Your Daily Blend of Entertainment News
Originally from Connecticut, Conner grew up in San Diego and graduated from Chapman University in 2014. He now lives in Los Angeles working in and around the entertainment industry and can mostly be found binging horror movies and chugging coffee.