Watch How Moonlight And Mahershala Ali Built One Of The Movie's Greatest Characters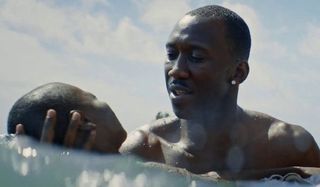 When the dust finally settles on last night's little kerfuffle at end of the Oscars, the lasting legacy of both La La Land and the eventual Best Picture winner Moonlight will be that they are two tremendous films. One of the cornerstones to the tremendous success of Moonlight was the performance of Mahershala Ali as Juan during the opening segment of the film entitled "Little." Mahershala Ali's portrayal was deemed so impressive that he even won the Best Supporting Actor accolade at the Academy Awards on Sunday night, and CinemaBlend has now been provided an exclusive clip from Moonlight's Blu-ray and DVD that details how the character was built.
You'll be able to learn even more about Moonlight, as well as being able to repeatedly watch it, when the Blu-ray and DVD for the film is finally released on Tuesday February 28.
If it's full of further tidbits like the above, which I'm almost certain it will be, then the addition of Moonlight to your DVD shelf will be a must, too. It also helps that Moonlight is truly an astounding piece of work, too, as it intimately tells the seldom heard story of Chiron over three stages of his life, while director Barry Jenkins, cinematographer James Laxton and every single one of the performers particularly excel as they produce a shimmering and resonant story.
The above extra goes into further detail about the character of Juan, with producer Jeremy Kleiner describing him as "an incredibly giving father who is also dealing drug to the mother of the person he is fathering. There's enormous complexity built into that." As you'd expect, Mahershala Ali comes in for particular praise from Jeremy Kleiner and director Barry Jenkins.
Barry Jenkins, who also walked away from the Academy Awards with his very own Best Adapted Screenplay award for writing the script from Tarell Alvin McCraney's story Moonlight Black Boys Look Blue, explained that Mahershala Ali was so extraordinary because he was able to embody the complexities of a drug dealer who is trying to be good, even though he makes his money in an illicit manner.
Mahershala Ali quickly returned the favor, too, insisting that he was only able to get straight to the core, heart and emotion of Juan because of the way that Barry Jenkins uses silence in the film. This gave him the opportunity and space to explore the character, which he did through movement or thought rather than ungainly, over-exploratory dialogue. Clearly it worked a treat, too, because Moonlight walked away from the Academy Awards with three pretty lofty prizes in the shape of Best Picture, Best Supporting Actor and Best Adapted Screenplay, which have confirmed its place in cinematic folklore.
Your Daily Blend of Entertainment News