The Awesome Way Bill Paxton Was Honored By Storm Chasers Who Love Twister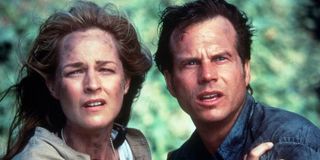 The untimely passing of Bill Paxton at the age of just 61 over the weekend led to an outpouring of grief that only a man of his talents and personality can muster. It also provoked a number of tributes from those closest to him, with Jennifer Aniston getting emotional when she remembered the actor during the In Memoriam section of the Oscars, while Rob Lowe declared today that he was his closest friend in the industry. But one of the most ingenious tributes for Bill Paxton to have emerged over the last few days was from a posse of storm chasers, who looked to doff their cap to the man that showcased their work in 1996's _Twister. _
Over 200 people headed out to a section of the United States that's known as "Tornado Alley" to spell out Bill Paxton's initials using GPS coordinates, and the memorial worked an absolute treat.
The specific location of the above is Wakita, Oklahoma, which is actually where a lot of Twister was shot. While some storm chasers just manually registered their GPS coordinates on the map from their homes, others decided to go all out and drove to the location as their own personal tribute to Bill Paxton.
We have the good people of Spotter Network to thank for organizing the above memorial. While the non-profit usually uses updates from the National Weather Service to track storm chasers, as well as helping to keep them safe in treacherous conditions and guide them away from tornadoes, they rightfully decided that honoring Bill Paxton with the device was just as important, too.
John Wetter, Spotter Network's president, told the AP that the group really has only performed tributes for non Spotters on four or five occasions, but claimed that Paxton absolutely deserved recognition because:
Jan De Bont's disaster film was a huge hit when it was released back in 1996, as it went on to gross $494.4 million at the box office, with Paxton in inspired leading man form alongside Helen Hunt, Jami Gertz, Cary Elwes, Philip Seymour Hoffman, and Alan Ruck. Plus it features arguably the greatest cameo from a cow in the history of cinema, too.
Bill Paxton's death was announced on Sunday after he suffered complications from surgery.
Your Daily Blend of Entertainment News