A Horror Movie Set In The Wizard Of Oz World Is Happening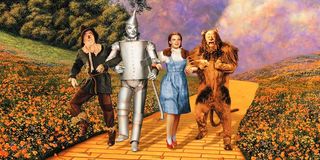 There's only so many times a times that a piece of literature can be tapped for adaptation before it becomes old. For The Wizard of Oz, that proverbial well sometimes feels like it's run dry. For almost as long as L. Frank Baum's book has been around, there have been movies, TV shows and other media projects that have put their own spin on the tale, but after a century, the different takes and re-imaginings just don't feel as unique anymore. However, perhaps that will change in the near future with a horror movie set in in the Land of Oz. This could be wonderful in a completely different way than how we usually associate that word with all things Oz.
According to THR, New Line Cinema has obtained a pitch from writer Mike Van Waes about a Wizard of Oz-centric horror tale. To clarify, this would not be the classic Wizard of Oz story with a horror spin, but an original story set within that magical world that's full of frights. Van Waes is a newcomer to the world of Hollywood writing, with his two credits on IMDB being the upcoming Hammerspace and the book proposal Peeves, which was picked up by Fox Animation. Given New Line's success with horror over the last year, which includes The Conjuring 2 and Lights Out, it looks like the studio is hopeful that Van Waes' script can help keep that streak going.
If you're a movie fan (if you're reading this, you likely are), you know that there will never be a Wizard of Oz adaptation more famous than the 1939 movie starring Judy Garland. Still, that hasn't stopped various creators from bringing something new to that universe, especially in the modern era. Notable examples include the musical Wicked (based off the same-named novel), Disney's Oz the Great and Powerful, Syfy's Tin Man miniseries and the NBC series Emerald City. NBC also staged a live TV production of The Wiz!, a musical that's been around since the 1970s. As I said, this is territory that's been well-ventured, so this pitch from Mike Van Waes will need to be something truly special to impress audiences.
Fortunately, as far as bringing something fresh and original to the table, a horror take on the Wizard of Oz mythology is an interesting idea. Rather than release something that can be enjoyed by both children and adults, this movie would cater solely to the latter and tell a horrific tale that happened either before or after (hell, maybe even at the same time) when Dorothy, The Scarecrow, The Tin Man and The Lion were off on their wholesome adventure. So what terror could the Land of Oz be dealing with? Is there a Munchkin serial killer on the loose? Did the Wicked Witch of the West create a mutated, psychotic Flying Monkey? I'm both curious and uneasy about what's lurking in that world.
What do you think of a horror movie set in the Wizard of Oz world? Does the idea intrigue you or is it a hard pass? Let us know in the comments below.
Connoisseur of Marvel, DC, Star Wars, John Wick, MonsterVerse and Doctor Who lore. He's aware he looks like Harry Potter and Clark Kent.
Your Daily Blend of Entertainment News
Thank you for signing up to CinemaBlend. You will receive a verification email shortly.
There was a problem. Please refresh the page and try again.