Rough Night Red Band Trailer: Scarlett Johansson Killing A Stripper Shouldn't Be This Funny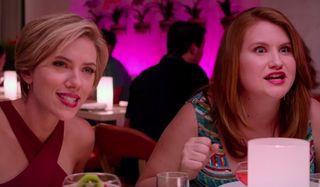 We all love a red-band trailer. While the tepid green-band footage usually does just enough to give you the gist of what a film will consist of and who is starring in it, its red-band brethren can give you a crash course in its content, tone and just exactly how far it's willing to go for your pleasure. Especially when it comes to a comedy. That's why it's so integral for you to check out the Rough Night red-band trailer rather than the more timid version, as it shows just how far the film is going to go, and why it could be the break-out comedy of the summer.
Rough Night looks as though it's going to be a mixture of The Hangover and Weekend At Bernie's, with a whole heap of Very Bad Things thrown in there for good measure, too. But thanks to its all-star comedic cast, it's set to be very much its own film, especially since it possesses the mercurial comedic talents of Jillian Bell at its core.
But there are plenty more reasons to be excited about Rough Night, especially when you take a look at the rest of the supporting cast. Not only is there Saturday Night Live's Kate McKinnon, who has blossomed into one of the go-to comedy actors in Hollywood in recent years thanks to her work as Hillary Clinton on the show and her breakout role in Ghostbusters, but there's also Zoe Kravitz and Broad City's Ilana Glazer. In fact, Rough Night marks something of a reunion for Glazer and Broad City writers Lucia Aniello and Paul W. Downs, as the latter pair have co-written the comedy, which Aniello is also directing.
Of course, it helps that Rough Night's cast is being led by Scarlett Johansson, who also just so happens to be the biggest actress in the world right now. It's good to see the 32-year-old Avengers star dabbling in the comedy genre again, especially after she reminded everyone how suited she is to it with her ever so brief cameo in The Coen Brothers' Hail, Caesar last year. This will actually be one of the few out and out comedies that Scarlett Johansson has ever led, with her previous dalliance in the genre coming with The Nanny Diaries, In Good Company and Ghost World.
Scarlett Johansson will get to remind us of her comedic chops when Rough Night is released later this summer on June 16. It has a nice little window of opportunity to succeed, too. Its only competition the week before it comes out is The Mummy, while it will go directly up against Cars 3 and The Book Of Henry. None of which star Jillian Bell, which immediately gives Rough Night a leg up on its competition.
Your Daily Blend of Entertainment News
Your Daily Blend of Entertainment News
Thank you for signing up to CinemaBlend. You will receive a verification email shortly.
There was a problem. Please refresh the page and try again.