The Gross Accident Charlize Theron Dealt With On The Set Of Atomic Blonde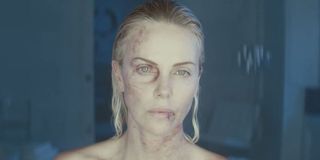 Charlize Theron isn't a stranger to undergoing physical transformations for a role. Back in 2003 she picked up a Best Actress Academy Award for doing just that in Monster, as she morphed into the serial killer Alieen Wouronos. It transpired that for Charlize Theron's latest role in Atomic Blonde (which this time around sees her portraying a murderer with a bit more style and panache) she underwent a transformation to her teeth that was neither required nor asked for. In fact, the Oscar winner has revealed that she cracked two of her back teeth while she was training for Atomic Blonde, and she's still now dealing with it close to a year and a half later. Charlize Theron opened up about how vigorous her training was for the film, and how it led to her rather brutal sounding injury, which you can read about, below.
Charlize Theron made this candid admission regarding her oral health during a question and answer session for Atomic Blonde at the SXSW Film Festival (via Variety). It honestly sounds like some pretty devastating stuff. Or maybe her dentist is just trying to squeeze every penny that he can out of the hugely successful actress. If it's the latter, then he should take a quick look at the trailer for Atomic Blonde to see that Charlize Theron could knock every single one of his teeth out, and probably give him a truly painful nipple twist, too.
Charlize Theron underwent a rather lengthy process in order to prepare herself for her role as Lorraine Broughton in Atomic Blonde. She had a total of eight trainers, who spent several months in the gym with her to make sure that she was ready for production. It took a while for Charlize Theron to feel truly comfortable in the role, though, and she even called up director David Leitch after two weeks of training revealing at the festival that she declared:
Despite these supposed set-backs, the first trailer for Atomic Blonde suggests that she soon found her rhythm. You can check out the red-band clip for the spy action thriller, which should make you instantly fall in love with it, below.
Superb stuff. Here's a round-up of Atomic Blonde's post SXSW premiere screening, while the film itself will be released on July 28. To find out what else is heading into theaters soon, check out our movies release schedule.
Your Daily Blend of Entertainment News
Thank you for signing up to CinemaBlend. You will receive a verification email shortly.
There was a problem. Please refresh the page and try again.