A Film Set In India Was Attacked By Dozens Of People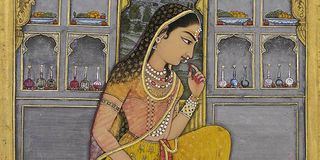 (Image credit: photo courtesy of public domain via Wikipedia.)
Sets for the Bollywood film Padmavati were vandalized and set on fire this week in the historic city of Kolhapur, India. New reports indicate that the fire and destruction occurred on purpose, as dozens of individuals stormed the set with sticks, stones and even homemade petrol bombs. The alleged reason for the attack? Director Sanjay Leela Bhansali has reportedly been accused of portraying Queen Padmavati in a bad light.
Queen Padmavati, also known as Padmini, is a fictional queen from the 13th or 14th century, who first appeared in a poem written in 1540 CE that featured fantastical elements. Her story has been fleshed out in TV and film over the years and Padmavati would be another example of her story getting the big screen treatment. While this in itself isn't particularly controversial, there has apparently been a rumor going around that the film would feature a scene where its two protagonists Rani Padmavati and Alauddin Khilji would engage in intimate acts. Padmavati has refuted those rumors, but they have persisted, leading to somewhere between 20 and 50 people showing up to attack the set.
No person was injured during the attack, which occurred between 1 and 2 a.m., according to Indian Express; however, there were some animals on set when the attack went down. One horse was badly injured during the attack, and apparently even the food for the horses was set on fire. Other items that caught fire included the costumes for the film and other antique props. It is unclear when the production will be able to get back on track.
When security showed up on the scene, they were able to catch some of those responsible, although reportedly they were also attacked by others. The attack comes a few weeks after Director Sanjay Leela Bhansali was attacked in Rajasthan while filming a different portion of Padmavati.
The film confirmed the attack via Twitter, thanking police for their swift response.
An attack like this is not unprecedented in certain parts of the world, although in Western countries they are more unlikely. In fact, usually set interruptions on sets of major Hollywood movies lean more toward amusing than dangerous, as happened when a man dressed up like a pirate snuck onto the set of Pirates of the Caribbean: Dead Men Tell No Tales. This is clearly more serious, and we're just happy that no one was filming on the set at the time of the attack. Being confronted by an angry mob is probably not something the cast and crew signed on for.
We'll bring you more details as the situation develops.
Amazing Race & Top Chef superfan with a pinch of Disney fairy dust thrown in. If you've created a rom-com I've probably watched it.
Your Daily Blend of Entertainment News
Thank you for signing up to CinemaBlend. You will receive a verification email shortly.
There was a problem. Please refresh the page and try again.