New DVD Releases: When To Buy The Latest Movies In April 2017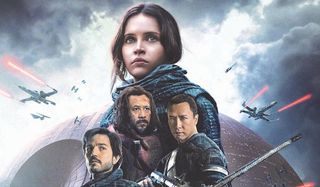 It's a big month for movie releases, with a few holdover awards nominees finally hitting Blu-ray and DVD, as well as several big box office movies. Among these is, of course, Rogue One: A Star Wars Story, a movie that did well in its theatrical run and that we anticipate to do quite well once it hits shelves. Disney has been gearing up for the big release with plenty of press, and there are a few stories about the making of the film already running around. In addition, April will mark the month that near Academy Award winner and actual Golden Globe winner La La Land will finally be hitting Blu-ray, albeit sans the Academy Awards sticker I'm sure Summit Entertainment was hoping for. Luckily, that shouldn't mar your enjoyment of the film in the least.
While we wait for April's big Blu-ray releases, if you are looking for the March 2017 DVD, Digital and Blu-ray releases, we have you covered. Unless otherwise noted in the Digital column, Digital releases are the same days as the Blu-ray and DVD releases.
Rogue One: A Star Wars Story Blu-ray Review
Rogue One is obviously a Star Wars movie, but in some ways, it also feels very separate from the rest of the entries, despite its basic plot explaining how the Death Star plans were stolen. With a few notable exceptions and a couple fun cameos, the film includes mostly original characters. It also has its own tone and sense of pacing. That combination of nostalgia and originality really works and comes together to produce what many consider to be one of the better Star Wars movies of all-time. Of course, it doesn't hurt that Gareth Edwards' Rogue One: A Star Wars Story contains plenty of consuming visual landscapes and CGI work recreating Grand Moff Tarkin that's nothing short of stunning. It also makes for one heck of a Blu-ray release, that also comes with a DVD and Digital copy. Walt Disney Home Entertainment's set even has a really nice menu setup with a cute buffering screen, and there's way more to the set, as well.
Bonus features are lengthy and located on a separate disc. Literally, there are so many details you can learn on the disc, from the idea of how the initial idea came together and how Gareth Edwards' Monsters influenced his hiring to how the stunts were achieved. The cast-specific extras are a little less exciting because they are mostly practical, but I even enjoyed the "Epilogue: The Story Continues" extra which featured footage from the premiere. Maybe it was just the emotional music choice that was getting to me. You can check out the full list of extras or order your own copy of Rogue One over at Amazon (opens in new tab).
Office Christmas Party Blu-ray Review
Office Christmas Party was spawned from an insanely simple premise, which is acknowledged within the extras on the Blu-ray disc. However, with 28 lead cast members---also acknowledged on the disc---the movie has an awful lot going on, most of which picks up after branch manager Clay (T.J. Miller) decides to throw a giant holiday party when his staff's jobs are on the line. Shenanigans ensure, involving actors as varied as Jennifer Aniston, Jason Bateman, Olivia Munn, Kate McKinnon, Courtney B. Vance, Jamie Chung, Randall Park, Rob Corddry, Jillian Bell, and more. With the massive cast and the amount of ad-libbing that was allowed on the set of Office Christmas Party, it makes totally sense there are just a crapton of outtakes and deleted scenes (some of which are in the unrated version) on the disc. There's also lengthy theatrical commentary and a behind-the-scenes featurette. This is the type of comedy you'll watch again and again if you liked it, and if Office Christmas Party is your jam, you can order a copy of the flick here (opens in new tab).
Tuesday, April 4 Blu-ray And DVD Releases
Rogue One: A Star Wars Story
Office Christmas Party
Don't Kill It
Paterson
Week of Tuesday, April 4 Early Digital Releases
Split
The Founder
Teen Titans The Judas Contract
Sleepless
Generation Found
Hidden Figures Blu-ray Review
There were some doozies in this year's Academy Awards nominees. One of these films, Hidden Figures, is notable not just for its cast, its great script and the way it all came together, but also because the movie is an inspirational story about three women who worked important NASA jobs in the face of both ethnic and gender cultural issues at the time. Twentieth Century Fox Home Entertainment's Blu-ray release is better upon a second viewing, as the details of Katherine Goble (Taraji P. Henson), along with Mary Jackson (Janelle Monae) and Dorothy Vaughan's (Octavia Spencer) stories are fascinating. The set itself is nice, too. When there are true-to-life stories such as the one in Hidden Figures, it's often good to get more background, and "The Life of Katherine Johnson" and more era-specific information is explored in the intriguing Making Of segment. Filming in Georgia was also personally fascinating to learn about, as I'm always interested to hear why shows and movies work for a move or TV show like The Walking Dead. (In this movie's case, the Virginia setting makes Georgia appealing.) The extras on the disc are probably not enough to entice you if you didn't already like the movie, but luckily this one is pretty great. Check out (opens in new tab) more about the release before you order your own copy and be sure to look at the original book (opens in new tab).
Tuesday, April 11 Blu-ray And DVD Releases
Hidden Figures
Lion
Veep: The Complete Fifth Season
Silicon Valley: The Complete Third Season
Top Gear 23
Tangled Before Ever After
Worlds Apart
Walking With The Enemy
The Bye Bye Man
Toni Erdman
Mad Families
War on Everyone
Three
Week of Tuesday, April 11 Early Digital Releases
The Young Pope (iTunes (opens in new tab) April 10)
Underworld Blood Wars
La La Land
Split Blu-ray Review
Following up the Fox series Wayward Pines, M. Night Shyamalan headed back to the big screen, producing the modestly budgeted thriller Split. Much of the movies eeriest moments are due to James McAvoy, who plays Kevin Wendall Crumb, among others, in Split. Without giving too much away, this latest endeavor features all of the twists and turns we've come to expect from a film by M. Night Shyamalan. It's a doozy of a movie, fun, scary, spectacular, and it's still good on a rewatch. Universal Studios Home Entertainment's set comes standard with an additional DVD and Digital copy. Extras aren't lengthy or amazing, although if you liked McAvoy's performance, you can catch more in "The Many Faces of James McAvoy." There's also an alternate ending, and I don't want to give too much away about it, but it is disturbing, and it's easy to see why it was cut from the final draft of the film. Still, that's certainly the extra that is most worth a watch. Order your own copy (opens in new tab) now.
The Founder Blu-ray Review
A lot of movies have been made over the years about big business, and The Founder tackles one of the biggest: the rise of McDonald's a fast food chain that rose to prominence on the whims and hard work of Mac and Dick McDonald (John Carroll Lynch and Nick Offerman) and Ray Croc (Michael Keaton), a man with more of a vision for the business than a humble attitude toward it. The Founder is mostly about Ray Croc's attitude toward building an empire, and how his relationship with the McDonald brothers crumbled as he struggled for largesse and they simply wanted to produce a good product. Keaton puts in a masterful performance here, as enthusiasm turns to obsession and director John Lee Hancock introduces us to a darker side of business. It's a slow process, and at times, the nearly two hour-long movie is a little slow. But it's certainly worth a watch. Anchor Bay Home Entertainment's Blu-ray release comes with a DVD and Digital copy (opens in new tab), but it's light on extras, although you can look into those first. This may be one to rent before owning, but it's no doubt another example of Michael Keaton churning out great roles.
Tuesday, April 18 Blu-ray And DVD Releases
Split
The Founder
Punching Henry
Killjoys: The Complete Second Season
Teen Titans: Judas Contract
Sleepless (opens in new tab)
Week of Tuesday, April 18 Early Digital Releases
A Dog's Purpose
Gold (opens in new tab)
La La Land Blu-ray Review
Filled with sunny costumes and actual sunshine, La La Land is a delightful romp through one of the most famous cities on Earth. Ryan Gosling and Emma Stone are both compelling in the narrative, which follows their young romance as the two are both trying to make it big in the big city. I could nitpick about the singing and dancing quality in the film, but there's a charm to the leads' lack of expertise and the movie's ending will certainly be memorable. There's a reason Damien Chazelle's latest film won six Academy Awards at this year's ceremony, including a big win for Emma Stone in the best actress category. If you want to read more about why La La Land is a must-watch, we have you covered. If not, Summit Entertainment's Blu-ray release comes with both a DVD and Digital copy of the film. If you are wondering how certain scenes in the movie were shot---the big shutting down the freeway opener, for example---the extras featuring a wonderful amount of movie trivia, and there are quite a few of them with the set too, especially if you purchase the Blu-ray, which comes with a few extras. There's also a segment on the times Gosling and Stone have worked together in the past, so if you are a fan of their body of work, there's plenty to peruse. You can order (opens in new tab) your own copy of the flick.
Tuesday, April 25 Blu-ray And DVD Releases
The Affair: Season Three
Animal Kingdom: The Complete First Season
Mean Dreams
Underworld Blood Wars
The Daughter
We Are X
The Marine 5: Battleground
Detour
Peanuts Go Team Go DVD
Week Of April 25 Early Digital Releases
Fifty Shades Darker