Laura Dern's Favorite Movie Role, According To Laura Dern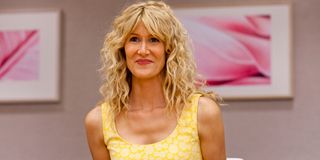 As one of the finest actors of her generation, you'd expect Laura Dern to have a hard time picking out a specific role as her favorite. Instead, it turns out that it was actually a rather simple decision for the actress. Rather than choosing her leading role as Dr. Ellie Sattler in Jurassic Park, or her Oscar nominated performance in Rambling Rose, when asked about her favorite gig Laura Dern insisted that her favorite ever movie role was playing Ruth Stoops in Citizen Ruth. She had a pretty solid reason why that was the case, too. That's because the Alexander Payne film allowed her to be debauched and depraved, and not give one single fuck. Here's what she said about the role:
While doing the above 24 hours a day, seven days a week, is certainly admirable, surely the ability to run away from raptors and get out of Jurassic Park alive means that Dr. Ellie Sattler deserves a bit more credit? Apparently not.
Laura Dern then also went on to wax lyrical about Citizen Ruth director Alexander Payne to EW, specifically noting that his confidence in both the material and her outlandish performance were the reasons for her sensational portrayal. Which was particularly impressive because this was actually Alexander Payne's debut as a director.
To be fair to Laura Dern, Citizen Ruth certainly allowed her to go to places that most other roles don't even verge close to. In Citizen Ruth, Laura Dern's titular character is a poor, irresponsible, and pregnant woman, who suddenly finds herself thrust into the spotlight over the morality and legality of abortion. But despite the character's deplorable antics throughout the film, Laura Dern was still able to imbue her with a lovable presence that meant you were usually somehow on her side, which is something that Laura Dern often brings to her characters. Here's a handy run-down of Ruth Stoops' past misdemeanors in Citizen Ruth:
Laura Dern made this admission regarding Citizen Ruth while out promoting Big Little Lies, which she co-stars in alongside Reese Witherspoon. Of course, Reese Witherspoon is already fully aware of the sort of material that Alexander Payne provides for his leading ladies, as she shot to fame because of her starring role as Tracy Flick in Election. Laura Dern then made the greatest movie suggestion of the week, as she insisted that because both Ruth Stoops and Tracy Flick are so deplorable the actresses should do a crossover film together. She even has an idea for the film's plot, as she believes that it should involve a heist and a road trip. As long as it involves Alexander Payne I'd be all for it. But if it doesn't, it sounds like it could be an awful lot like Hot Pursuit. And no-one wants to relive that monstrosity.
Your Daily Blend of Entertainment News
Your Daily Blend of Entertainment News
Thank you for signing up to CinemaBlend. You will receive a verification email shortly.
There was a problem. Please refresh the page and try again.