That Time Tom Holland Went Undercover To Prepare For Spider-Man: Homecoming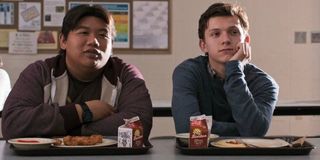 Tom Holland's preparation for his role as Peter Parker in Spider-Man: Homecoming didn't just involve getting into shape and perfecting his New York accent, he also had to adjust to being an American student. But while you probably assumed this would have been the easiest aspect of his training, it actually caused Tom Holland some concern, because the British and American school systems are wildly different. Tom Holland was so bothered by this aspect of the shoot that he actually went undercover in an American high school for a few days. He's now been recalling his brief time as a student, revealing that he had an alias and everything. Tom Holland explained,
Because he was surrounded by some of New York's brightest young intellects, it sounds as though Tom Holland spent most of his time at the school just looking incredibly stupid. Hopefully, in between classes, he found the time to go through the rigmarole that most American students encounter. Like asking a girl on a date in front of everyone and then being rejected, eating borderline gruel that's been made by a chain-smoking lunch lady, and wrongly getting detention from a crusty old teacher. If he didn't do at least one of the above, then it was a giant waste of time.
Tom Holland couldn't resist the opportunity to tell one his new pals at the school that he was actually Spider-Man, in case you were wondering. Unfortunately this exchange didn't go well too well for the actor, per what he told Variety. That's because after his declaration she immediately assumed that he was insane.
We'll get to see if this experience actually added to Tom Holland's performance when Spider-Man: Homecoming is finally released. In fact, you can get a glimpse of Tom Holland at school as Peter Parker in the trailer below.
Spider-Man: Homecoming will be in theaters on July 7. To find out what else is hitting theaters soon, take a look at our movies schedule.
Your Daily Blend of Entertainment News
Thank you for signing up to CinemaBlend. You will receive a verification email shortly.
There was a problem. Please refresh the page and try again.