How Ant-Man And The Wasp's Director Shot Down That Hawkeye Rumor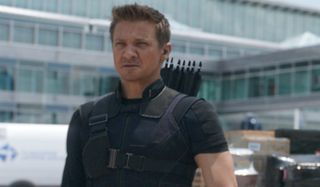 The sheer size of the Marvel Cinematic Universe, and the fact that it's populated with so many superheroes, means that fans are always looking for potential opportunities for characters to crossover into different properties. One such rumor recently did just that, by suggesting that Hawkeye would be popping up in Ant-Man And The Wasp. However, the one man who would know if the above is actually true has been quick to deny this speculation, as director Peyton Reed quickly took to Twitter to shoot down the suggestion that Jeremy Renner's Hawkeye will appear in Ant-Man And The Wasp.
Devastating. While Hawkeye isn't in the same calibre as Captain America, Iron Man, Thor, or The Hulk, he's more than proven his worth to the Marvel Cinematic Universe since his first appearance in 2011's Thor. Of course that doesn't mean that he deserves his own movie, as his character probably lacks the clout to hold his own story, but Marvel fans are so enamoured with the character, and Jeremy Renner's performance, that they clearly want to see more of him.
It's doubly devastating that Hawkeye won't be in Ant-Man And The Wasp because it is arguably the one Marvel movie that could have benefitted the most from his presence. Both Clint Barton and Scott Lang are easily the most grounded of the Marvel family, and the pair previously delighted when they shared the screen in Captain America: Civil War. They even worked in tandem together in the blockbuster, as Ant-Man took a ride on Hawkeye's arrow in an attempt to infiltrate Iron Man's suit. You can take a look at the scene in question below.
The rumor that Hawkeye will be appearing in Ant-Man And The Wasp materialized when it was casually mentioned by Showbiz411 that, after Jeremy Renner's absence from Mission: Impossible 6 was confirmed, he'd be showing up in the sequel. But while it's a little disappointing to learn that we won't be seeing Clint Barton, a.k.a. Hawkeye, in Ant-Man And The Wasp, you can take solace in the fact that Jeremy Renner is already confirmed for both Avengers: Infinity War and Avengers 4. The last we saw of Hawkeye in Civil War, he'd just escaped The Raft thanks to the help of Steve Rogers. And since Age Of Ultron showed us that he had a family, he probably immediately headed back to their warm embrace after gaining his freedom. That's almost certainly where he'll be when Ant-Man And The Wasp is finally released on July 6, 2018, too.
Your Daily Blend of Entertainment News