The Crazy Process Michelle Rodriguez Endured To Play A Naked Man In The Assignment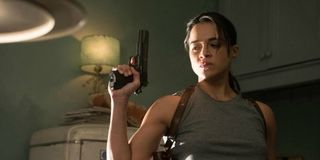 Much has been made of Michelle Rodriguez's casting in The Assignment, which sees her playing a transgender assassin who goes on the hunt for the doctor that turned her from man into a woman. Clearly playing Frank Kitchen/Tomboy had an impact on Michelle Rodriguez, too, because the actress has now been discussing the process that she went through to turn into the character, which included four hours worth of preparation and the addition of a certain lengthy appendage. Michelle Rodriguez recalled:
Who said movie magic was dead? Michelle Rodriguez's preparation went even further beyond the daily four-hour make-up session, too. The actress, who believes that she looked Mediterranean as the character, also admitted that she created her very own Tinder account as a man, an experience that she described as "funny" before then boasting that she received some "matches."
The Assignment drew heavy criticism when it was originally announced, as the casting of Michelle Rodriguez in the leading role was seen as another example of trans actors being both deprived of roles and the opportunity to tell stories of their own. Meanwhile, once the plot of the film became apparent, the notion that sex reassignment surgery was being used to enact revenge was deemed inappropriate, too.
Like Michelle Rodriguez, Sigourney Weaver, who worked with The Assignment writer and director Walter Hill on the first four Alien films, also spoke to The Hollywood Reporter and insisted that the film doesn't deserve the criticism that has come its way. In fact, during her discussion, she explained that The Assignment actually "demonstrates the pain of being forcibly put into the wrong body." You can get a better indication of what The Assignment consists of by watching its trailer below.
You'll be able to form your own opinion on The Assignment when it is released into theaters on April 7, while Michelle Rodriguez fans will also be able to see her in action in The Fate Of The Furious just a week after, too, as the blockbuster follows on April 14.
Your Daily Blend of Entertainment News
Thank you for signing up to CinemaBlend. You will receive a verification email shortly.
There was a problem. Please refresh the page and try again.