Why Arnold Schwarzenegger Isn't Appearing In The Predator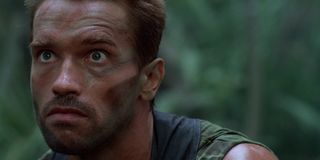 Shane Black's take on The Predator is one of the most eagerly anticipated movies currently in production. Boyd Holdbrook, Olivia Munn, Trevante Rhodes, Keegan-Michael Key, and Thomas Jane are the ones tasked with bringing down the monstrous creature, and it now sadly turns out that they won't get a helping hand from someone who has gone face-to-face with a Predator before. That's because Arnold Schwarzenegger, who starred in the very first Predator film, turned a role down. And now he has revealed that, despite approached by by Shane Black and producer Joel Silver, he turned it down because he simply didn't like the part. Arnold Schwarzenegger did insist that he's still open to appearing in the film, but only in a bigger part, as he explained,
At least Arnold Schwarzenegger has given himself a little bit of wiggle room to possibly make his return as Major Alan "Dutch" Schaefer, who was the first to encounter and defeat the Predator when the original film was released back in 1987. Die-hard fans of the franchise were hoping that Dutch would at least pop up along the way to offer some much needed advice to the above team of soldiers. But since Arnold Schwarzenegger made it clear to Yahoo that he is only interested in doing so if it is the right role, and it's unlikely that Shane Black will now be chomping at the bit to return with a freshly written part.
While Arnold Schwarzenegger had to tussle with the Predator down in the Val Verde jungle, Shane Black's Predator will find his posse batting the creature in suburbia. You can get a glimpse of Sterling K Brown, Trevante Rhodes, Boyd Holbrook, Olivia Munn, Keegan-Michael Key, and Jacob Tremblay, as well as Shane Black, all lined up and ready to face the Predator below.
But while it's disappointing to learn that there are currently no plans to include Arnold Schwarzenegger in The Predator, we all know that, even if he did appear, there was no way he'd come close to topping his most iconic scene from the original. You can relive this delightful slice of movie magic below.
We'll get to see if Shane Black and his team can come anywhere near to matching the above when The Predator is released on February 9, 2018.
Your Daily Blend of Entertainment News
Your Daily Blend of Entertainment News
Thank you for signing up to CinemaBlend. You will receive a verification email shortly.
There was a problem. Please refresh the page and try again.