Watch Guardians Of The Galaxy's Chris Pratt Explain The Walkman In Hilarious Video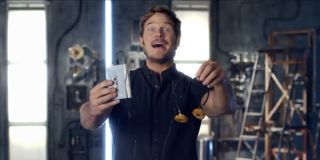 This year is going to see an avalanche of highly anticipated movies debut in theaters, but few of those films have fans more excited than James Gunn's Guardians of the Galaxy Vol. 2. The long awaited Marvel sequel looks like it's going to dial everything that we loved about the original up to 11, and that includes seriously beefing up the film's soundtrack. As we all know, the Guardians do not have access to an iPhone to play Peter Quill's Awesome Mixes; they have an antiquated technology referred to as a Walkman. Still not sure what a Walkman is? Don't worry, Chris Pratt recorded a video of himself explaining the piece of tech for Throwback Thursday, and his explanation should clear everything up. Check it out below to see for yourself.
Is it possible to not love that guy? If you were worried that Chris Pratt had somehow lost his charisma between the release of the last Guardians of the Galaxy movie and the upcoming sequel, then I think this video can put those fears to rest. Chris Pratt continues to charm the entire world with his distinct Star-Lord persona, and we could honestly watch him explain a Walkman all day.
Of course, this is much more than just a funny video; it continues a theme that has defined the Guardians of the Galaxy franchise. The first movie very firmly established that Star-Lord loves his Walkman, and he will do anything to retrieve it if he loses it during a mission. We all saw how angry and frustrated he got when he misplaced the first Awesome Mix given to him by his mother. If he permanently loses the Awesome Mix Vol. 2 during the events of the upcoming sequel, there will be no replacing his classic music from the 1970s and 1980s -- or his connection to his mom. The stakes are high on this one, folks.
Another aspect of the Guardians of the Galaxy sequel that this video clearly highlights is the fact that we can expect more of the same offbeat sensibilities that made the first film so enjoyable in 2014. Coming off of the brooding and intense Captain America: The Winter Soldier, the Marvel Cinematic Universe was in a very tonally dark (albeit incredibly successful) place; then the Guardians of the Galaxy franchise debuted and completely turned the idea of a superhero movie on its head. We already know that Guardians of the Galaxy Vol. 2 is going to double down on all of the humor that we loved about the first film. Beyond that, however, it will also add to that formula by including newcomers like Pom Klementieff's Mantis as well as Kurt Russell's Ego -- thus ensuring that the franchise will only get delightfully weirder as it grows and becomes more confident with itself.
Peter Quill and his beloved Walkman will return when Guardians of the Galaxy Vol. 2 blasts its way into theaters on May 5.
Originally from Connecticut, Conner grew up in San Diego and graduated from Chapman University in 2014. He now lives in Los Angeles working in and around the entertainment industry and can mostly be found binging horror movies and chugging coffee.
Your Daily Blend of Entertainment News
Thank you for signing up to CinemaBlend. You will receive a verification email shortly.
There was a problem. Please refresh the page and try again.