How The Fate Of The Furious' Director Really Feels About That Vin Diesel Twist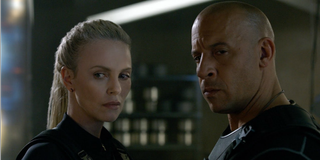 When the first trailer for The Fate Of The Furious was released, fans were so blown away by the revelation that Dominic Toretto (Vin Diesel) had turned against his family and friends that they may not have noticed the humungous, action set-pieces it would entail. Fast And The Furious die-hards immediately began to wonder about the plot twist that had forced Dom to go rogue, which is exactly why director Straight Outta Compton's F. Gary Gray decided to sign up to oversee the blockbuster. F. Gary Gray recently detailed how he feels about the twist, noting he was immediately attracted to oversee The Fate Of The Furious because of it. Here is what he told CinemaBlend:
F. Gary Gray made this admission to me last week when I talked to the director over the phone about The Fate Of The Furious. Audiences clearly feel the same way, too. That's because when The Fate Of The Furious' trailer was originally released all the way back in December it quickly racked up the most views over the course of 24 hours than any previous trailer, as it was watched over 139 million times. Making Dom go up against the rest of his gang also allowed The Fate Of The Furious to come at the characters and their antics from a completely different angle, too, which--it is hoped--will rejuvenate and freshen up the franchise. That is no mean feat considering The Fate Of The Furious marks the eighth installment in the series.
Not that the Fast And The Furious franchise needs to be reinvigorated, because its last effort, Furious 7, was the most successful film of the series yet. Not only did it gross $1.516 billion at the box office, which was nearly twice as much as Fast & Furious 6's $789.2 million (the second highest haul in the franchise), it was also met with the best reviews that the series has ever had, too.
That's a high bar for The Fate Of The Furious to leap over. But its trailers suggest that it could actually do just that. Especially because of Dom Toretto's betrayal, but also because the film sees the gang roaring through New York City as well as The Rock pushing away a torpedo with one hand while Tyrese Gibson drives a jeep on some ice and avoids a submarine. You can whet your appetite for Fate Of The Furious by watching its trailer again below.
We'll get to see what else The Fate Of The Furious has in store for us when it finally hits theaters on April 14. Here's what else is hitting theaters soon.