You Can Finally Own Fantastic Beasts And Where To Find Them's Nifflers, But They Won't Be Cheap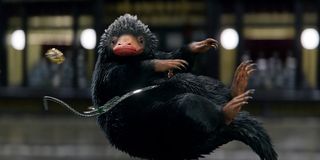 Ever since the release of Fantastic Beasts And Where To Find Them, moviegoers have been waiting for either an explorer to find a Niffler in some far off distant part of the world, or for a mad scientist to mix a badger with a monkey and create one. Since none of these scenarios look as though they're actually going to transpire any time soon, the good folks over at the Harry Potter Shop At Platform 9 ¾ have created a Niffler plush that might actually be cuter than the version in _Fantastic Beasts. _
Unfortunately, though, these Nifflers don't come cheap. In fact, it will cost you £35 to purchase the Niffler plush from the online shop, which comes in at $43. The problem for American customers is that Newt Scamander can't just zip your very own Niffler across the pond with a flick of his magic wand, so you'll also have to pay an additional £20 ($24.77) for packaging. Still, once the adorable and endlessly huggable critter arrives in your home you'll instantly recognize that he was well worth the $63.77.
Of course, the other possible reason why the Niffler is so expensive is that it has an endless array of shiny gold and treasure hidden away in its pouch on its belly. Fantastic Beasts And Where To Find Them showed us that the Niffler loves to rob such possessions, as it did just that in the Steen National Bank and in a variety of Manhattan jewel shops. So if you do decided to splash the cash on your very own Niffler, there's a chance that it could come with a really expensive watch or piece of jewelery, too.
During their debut on the big-screen in Fantastic Beasts And Where To Find Them the Nifflers quickly became a major highlight. Not just because they're fuzzy and cute and are basically better than any other animal or pet that is currently available to us, but mostly because the creature had a terrific back-and-forth with Eddie Redmayne, to such an extent that it almost acted the Academy Award winner off the screen. You can relive some of the highlights of the Niffler by clicking on the clip below.
The big question now is what does the future actually hold for the Niffler? The success of Fantastic Beasts And Where To Find Them, which grossed $813.2 million at the box office despite being barely linked to the previous Harry Potter films, means that a number of sequels are planned. Production on Fantastic Beasts And Where To Find Them 2 is due to begin in August 2017 ahead of its release on 16 November 2018. Hopefully the fantastic beasts will feature prominently in the follow-up, which will then pave the way for the much needed Niffler spin-off that the world is craving for.
Your Daily Blend of Entertainment News
Your Daily Blend of Entertainment News
Thank you for signing up to CinemaBlend. You will receive a verification email shortly.
There was a problem. Please refresh the page and try again.