How Paul Walker's Legacy Influences The Fate Of The Furious, According To Its Director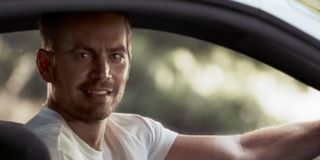 The death of Paul Walker during the production of Furious 7 saw the cast and crew of the franchise suddenly tasked with the responsibility of completing the blockbuster to a standard that would honor their fallen brother. The subsequent humungous success of Furious 7 always meant that a sequel would soon follow, but that didn't change the determination to make Paul Walker proud. So much so that director F. Gary Gray has admitted that they considered Walker's legacy when making every major decision regarding The Fate Of The Furious. Gray admitted:
F. Gary Gray, who was brought on to direct The Fate Of The Furious after the tremendous success he had with Straight Outta Compton, made this admission to me when I sat down with the filmmaker to discuss his work on the high-octane blockbuster. Despite this being his very first installment on a Fast And The Furious film, the Friday, A Man Apart and Law Abiding Citizen director was quickly brought up to speed on how tight a bond the cast and crew had, which is why it was of the upmost importance to do Paul Walker justice.
They'd managed to do just that with the conclusion to Furious 7. Despite the fact that Paul Walker died before production had finished, a combination of rewrites, special effects and his brothers Cody and Caleb being used as stand-ins allowed the film to shoot his remaining scenes. This included the touching farewell between Vin Diesel's Dom and Paul Walker's Brian, which you can relive below.
Make sure to also check out our exclusive clip from The Fate of the Furious.
You'll be able to see how the film doffs its the cap to Paul Walker, and see if its action can top what has come before, when The Fate Of The Furious is released on April 14.
Your Daily Blend of Entertainment News
Your Daily Blend of Entertainment News
Thank you for signing up to CinemaBlend. You will receive a verification email shortly.
There was a problem. Please refresh the page and try again.