How Far Star Wars Episode IX Is Along, According To Colin Trevorrow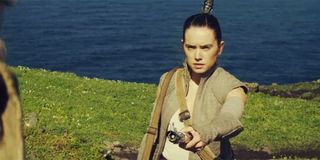 The Star Wars franchise is not just a cultural institution; it has become a well-oiled machine in recent years. With continuous releases of Star Wars films set for the foreseeable future, Disney and Lucasfilm have committed themselves to looking several movies ahead and making sure there's a definitive plan in place. Looking beyond The Last Jedi and the Han Solo anthology film, we come to Episode IX, which will hit theaters in 2019. We still know very little about the movie, but it now seems that a draft of the film's script exists, and it is in the process of being revised while director Colin Trevorrow simultaneously develops J.A. Bayona's Jurassic World sequel. Trevorrow explained:
The folks at MTV recently caught up with Colin Trevorrow at CinemaCon and asked him about his current schedule for his Star Wars movie. As you can pretty clearly glean from his comments, it is evident that he is working himself to the bone. As of right now there currently is a draft for Star Wars: Episode IX and Trevorrow is in the process of fine-tuning that story during the afternoon after also developing Jurassic World 2 every morning. He seems fairly in-tune with the fact that developing two of the most highly anticipated blockbusters of the next few years is going to take a significant toll on him. However, given his strong track record with indies such as Safety Not Guaranteed and behemoth films like Jurassic World, it appears more than probable that he's the right man to handle this particular workload.
The fascinating thing about Star Wars: Episode IX is how little we know about where the Star Wars universe will be when it finally debuts. Disney and Lucasfilm have been incredibly coy in relation to plot details surrounding The Last Jedi, and as such figuring out where the Star Wars galaxy will be two years from now has become nearly impossible. That said, it is somewhat enticing to find ourselves so in the dark in regards to Star Wars plot details. By contrast, superhero franchises often telegraph the story arcs they are going to tackle years in advance (Civil War comes to mind) which affords fewer opportunities for surprises. We may have more evidence to work with once the first trailer for The Last Jedi finally debuts, but it's admittedly refreshing to have so little to speculate about a major film's plot.
So I think it is safe to say that Colin Trevorrow will have his hands full over the course of the next few years. Jurassic World 2 will hit theaters on June 22, 2018, and Episode IX will debut on May 23, 2019. As for this year's film releases, Star Wars: The Last Jedi will premiere on December 15, 2017.
Originally from Connecticut, Conner grew up in San Diego and graduated from Chapman University in 2014. He now lives in Los Angeles working in and around the entertainment industry and can mostly be found binging horror movies and chugging coffee.
Your Daily Blend of Entertainment News
Thank you for signing up to CinemaBlend. You will receive a verification email shortly.
There was a problem. Please refresh the page and try again.