2017 Summer Movies: Put These Must-See Films On Your Calendar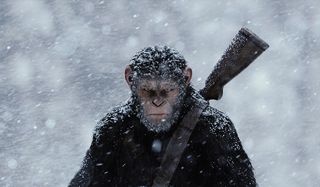 Summer is a particularly crowded time at the movies, as it's one of the two major seasons that all of the studios release their finest blockbuster fare. And with such a crowded market, it's hard to know just what's worth seeing, and what doesn't look up to snuff. Now, while we can't always tell what's going to be a sure-fire winner, we can see what films look like the best of the lot.
Which is why we've put together somewhat of a calendar for all of you fine folks out there. Starting with May, and running through August, there are a slew of films that we can't help but be excited about. They're a varied bunch, but they all have one thing in common: they want your summer box office dollars! So break out your wall calendar or the smartphone app of your choice, and mark down the following films for your seasonal enjoyment.
Guardians of the Galaxy Vol. 2
C'mon, Guardians of the Galaxy Vol. 2 was pretty much on this list since the day they announced they were making a sequel. With writer/director James Gunn aiming for his usual brand of storytelling that's emotional, yet playful in a rebellious sort of way, the sequel to 2014's runaway hit has only the highest of expectations from its fans. And all trailers have so far proven that they've all been met, and possibly exceeded.
Release Date: Friday, May 5
King Arthur: Legend of the Sword
Guy Richie knows how to make a summer movie, and he proved it most effectively with his take on The Man From U.N.C.L.E. Despite that film's criminally underrated reputation, Richie has another bite at the summer apple with King Arthur: Legend of the Sword. With Charlie Hunnam as the titular king, and Jude Law as the main adversary to his rise, this mix of magic and action could be just as unique as Richie's 2015 spy caper was. Let's just hope it gets a bigger audience.
Release Date: Friday, May 12
Snatched
How often is it that you get a team like Goldie Hawn and Amy Schumer together in one film? Well, so far, it's one film exactly, but if Snatched becomes the wild success some might want it to be, we may see more in our futures yet. Playing a mother / daughter pair who go on vacation to seek a little adventure, Hawn and Schumer get themselves into more than they bargained for, as they become entangled with kidnappers and try to make their way back to safety. Considering director Jonathan Levine has made some serious hay out of comedy pair projects, we're really curious to see where this pair winds up.
Release Date: Friday, May 12th
Alien: Covenant
We're not sure why Ridley Scott has been laying down so many spoilers for Alien: Covenant, but we do know that he plans for this film to be a springboard for more adventures within the franchise's universe. So long as the rest of this burgeoning universe keeps up with the levels of bloodshed and sheer terror that Alien: Covenant looks to be hiding in its shadows, we'll be fine with that. While Prometheus was a more sterile entry in the same world, it looks like this latest film returns us to the gritty and grizzly world we've known and loved for decades. Bring on the Backburster!
Release Date: Friday, May 19
Diary of a Wimpy Kid: The Long Haul
It's actually kind of ingenious for Fox to release the latest Diary of a Wimpy Kid movie on the same day as their other May blockbuster, Alien: Covenant. While parents can have the option of watching something expertly terrifying, their children have the option of seeing the Heffley clan on a road trip to Grandma's house. Of course, the film looks to be a more exciting and perilous journey than one would expect, and Diary of a Wimpy Kid: The Long Haul actually looks pretty funny for a family friendly film.
Release Date: Friday, May 19
Baywatch
Don't look now, but you're getting Dwayne Johnson flicks for three out of the four seasons 2017 has to offer. Spring brings you The Fate of The Furious, and the Fall season just barely gets Jumanji: Welcome to The Jungle. Which leaves the summer with quite possibly the most Dwayne Johnson project of all, the hilarious-looking adaptation of Baywatch. Johnson's not the only star we'll be watching for, as the entire ensemble seems up to the task of throwing down for hot action, while cracking wise every chance they get. And isn't that what the summer movie season's all about?
Release Date: Friday, May 26
Pirates of the Caribbean: Dead Men Tell No Tales
If you're like us, you've been dreading the new Pirates of the Caribbean movie. At least, we were until the brand new trailer started to show some of the story beats and characters that Pirates of the Caribbean: Dead Men Tell No Tales looks to be engaging in. With a promise of returning to story of Will Turner and his son, Henry, we're hoping that the entire franchise warps itself back to a time where Pirates of the Caribbean: On Stranger Tides never existed. At the very least, Javier Bardem quite possibly looks like the best baddie of the series since Geoffrey Rush's Captain Barbossa.
Friday, May 26
Captain Underpants
While we've got the subject of kid's books fresh in our minds, it's probably a good time to talk Captain Underpants. This idea actually got much more interesting when we learned that Thomas Middleditch and Kevin Hart were playing the kids who hypnotize principal Ed Helms into believing he's the titular hero of the film. It's your typical screwball-y antics, but the way that trio commits to its respective roles makes it look better than it has any right to be.
Release Date: Friday, June 2
Wonder Woman
Contrary to what some might think, we want both DC and Marvel to succeed with their film projects. We love both sides of the aisle, and healthy competition would only be better for everyone who loves the superhero genre. So far, DC hasn't been sending us their best films, but Wonder Woman actually looks like all of that's about to change. The trailers have been consistently solid, and our own Conner Schwerdtfeger saw some footage that sold him, and the rest of us, even harder on this flick. Let's hope this one sticks the landing.
Release Date: Friday, June 2
The Mummy
Cinematic universes are all the rage, and not all of them sound interesting enough to get such a treatment. But when you tell us that the Universal Monsters universe is getting an upgrade, and that not only Tom Cruise but also Russell Crowe, Johnny Depp, and possibly Javier Bardem are going to be a part of it, our interest starts to grow. With Cruise's reboot of The Mummy first up in the world, the usual frenetic blend of action and horror we've come to expect from a Mummy movie is well in tact, only with a lot more running. It looks like a promising start to a more mature monster movie.
Release Date: Friday, June 9
Cars 3
Cars 2 was, admittedly, a huge misstep for not only the franchise, but for Disney / Pixar itself. So obviously, Cars 3 has a lot of pressure on itself to return to what worked about the first film, while junking the mistakes of the second. With the fall and comeback of Lightning McQueen being teased as the film's big plot point, and with no Mater sightings just yet, there's a lot of hope that the racing in Cars 3 will be more impressive, and more important, than it was in its hijinks heavy predecessor.
Release Date: Friday, June 16
Rough Night
Scarlett Johansson is already going into summer 2017 with some unwanted baggage, what with Ghost in the Shell being a letdown on the domestic scene. However, that doesn't mean she's down for the count, as she's at the center of the ensemble for Rough Night, which takes the premise of Very Bad Things and puts it in the hands of the folks behind Broad City. If that doesn't cure the fix for new exploits in the darker end of the comedic pool, then frankly we don't know what will. Bonus points for that recent trailer, which was very, very funny.
Release Date: Friday, June 16
The Book of Henry
There's a lot going on in that first trailer for Colin Trevorrow's The Book of Henry. A single mom (Naomi Watts) raising two boys (Jacob Tremblay, Jaeden Lieberher) who struggles because one of them is a genius. We saw that earlier this year with Gifted. Then, though, Henry takes a turn, and it becomes a mystery-suspense thriller, with Watts' character taking down Dean Norris of Breaking Bad for crimes against his step-daughter (Maddie Ziegler) he might have committed. Twists! We trust in Trevorrow, whose Safety Not Guaranteed was outstanding -- and yes, he wears the blockbuster hat very well, too. We'll see what this one is all about later this summer.
Release Date: June 16
Transformers: The Last Knight
Another friend of the continuing cycle of franchise disappointment, Transformers: The Last Knight is throwing everything our way to get us back in its good graces. Apparently, "everything" includes an evil looking Optimus, a rather heroic Bumblebee, and more Mark Wahlberg / Stanley Tucci action, with a side of Anthony Hopkins' movie wisdom. Though our big question is whether or not Isabela Moner's Izabelle seals the deal with a better female counterpart in the series' lead. We're trending optimistically on that one.
Release Date: Friday, June 23
Baby Driver
If there's one reason we're looking forward to Baby Driver, it's that it's the first Edgar Wright film since The World's End, and we've missed him ever so much. The slick car chases, pin-point soundtrack picks, and the killer cast are all wonderful add-ons, don't get us wrong. But you could have made this movie with sock puppets, a recorder, and Hot Wheels cars, and Wright's name would have drawn us out. That said, we're glad no one suggested he make Baby Driver that way, and that we've got an actual film to look forward to!
Release Date: Wednesday, June 28
Despicable Me 3
The Despicable Me franchise seemed to have moved away from its message of the importance of family in its second outing, as well as its ill-advised, but highly successful spinoff, Minions. And yet, the inclusion of Gru's twin brother Dru, as well as an 80's obsessed villain voiced by South Park's Trey Parker were all it took to get us to the table for Despicable Me 3. Sure, there are still Minions. But it looks like this film may have gotten a grip on the franchise's winning formula once again.
Release Date: Friday, June 30
The House
Will Ferrell and Amy Poehler are both the best and worst people to see in the cast of a comedy like The House. On one hand, this sort of film could turn into a PG-13 line-o-rama nightmare that isn't as funny as it hopes to be. But when we found out it's an R-rated movie, we started to get interested. When we heard Jason Mantzoukas was cast as the comedic third wheel, we got excited. By time the trailer showed us the accidental hand chopping gag, we decided that, hands down, The House is a must see from this summer's crop.
Release Date: Friday, June 30
Spider-Man: Homecoming
The Amazing Spider-Man duology really took a lot out of us, as it was not only an unnecessary reboot, but it generally didn't seem to know what to do with itself. And then Marvel and Sony parted the red tape, and teamed to give us Tom Holland's Spidey, which wiped away the memories of past failures, and had us amped to see a webslinger rise yet again. While Spider-Man: Homecoming isn't the typical origin, it is the beginnings of Peter Parker's career as a hero, with a wiser Tony Stark mentoring him. And frankly, that's all we needed in the first place.
Release Date: Friday, July 7
War for the Planet of the Apes
No franchise was as surprising in its rise to prominence as the new Planet of the Apes prequels. Defying all expectations, the first two films built a world that not only connected to the classic films, but also made the whole concept a more modern, ape-friendly, exercise. So naturally, the doom, gloom, and boom of War for the Planet of the Apes has us excited to see where director Matt Reeves will take the franchise next. If the look in Woody Harrelson's eyes is any indication, this war is going to have some pretty big casualties.
Release Date: Friday, July 14
Dunkirk
From wars imagined to a war actually lived, Dunkirk is Christopher Nolan's return to the film fold, with his first story based on actual events. With a return to more realistic action, and a historical subject matter that's intriguing as it is harrowing, the European Theater looks to be returning to theaters in an exciting way. Though we'd be lying if we didn't say part of our eager attendance to Dunkirk is based on our concerns for how a PG-13 film can accurately convey such a casualty heavy moment in history.
Release Date: Friday, July 21
Valerian and The City of a Thousand Planets
We're never getting a sequel to The Fifth Element, and frankly, we don't need it. If anything, Valerian and The City of a Thousand Planets is all fans of that film will need, as it presents its own franchising opportunities, and it's one of the influences that made director Luc Besson's 90's classic what it turned out to be. The visuals alone have hooked us in for this one, and we're ready to take this action packed ride to wherever it may go.
Release Date: Friday, July 21
Atomic Blonde
If you ever wanted to see Charlize Theron really kick some ass, then you probably dropped your jaw to the floor when watching the Atomic Blonde trailer. We can't blame you, as this Cold War spy flick looks like everything John Wick has given us, but with a female lead and some retro-cinema panache. Also, anytime Charlize Theron has to put down scores of baddies, we tend to cheer alongside her, so more movies like this would be much appreciated.
Release Date: Friday, July 28
The Emoji Movie
This isn't easy for us to say, but it's worth saying anyway: we're really curious to see how The Emoji Movie turns out. Maybe it's the fact that Smurfs: The Lost Village wasn't as bad as we feared it would be. Maybe it's because it seems similar to Wreck-It Ralph, only with phone icons. Either way, this emoticon adventure has us interested in what it's trying to sell, as well as the fact that respected actor Patrick Stewart is trying to help sell it.
Release Date: Friday, July 28
The Dark Tower
An adaptation that also serves as a possible sequel to the work it's based off of sounds crazy, right? Usually, a film struggles to do one or the other properly, so why mix the two? Well, when it's Stephen King's The Dark Tower, you can see why the approach works so beautifully. With Roland coming to the screen to face off against the Man In Black, we're eager to relive past glories, but excited to see where the story goes next. Let's face it, we were kind of owed this much after that last book ended the way it did.
Release Date: Friday, August 4
Annabelle: Creation
How do you end an exciting summer of thrills, chills, and spills? With a possessed doll, naturally! Annabelle: Creation takes us back to the girl that started it all in The Conjuring's universe, and this entry is directed by David F. Sandberg. That name may not mean anything to some of you, but to those of you who saw Lights Out last summer, you're probably thrilled to see how Sandberg follows up that particular piece of horror candy. Creepy dolls have always fascinated us, but the further adventures of Annabelle practically guarantee us there opening night.
Release Date: Friday, August 11