One Surprising Marvel Villain James Gunn Would Love To See In A Guardians Of The Galaxy Movie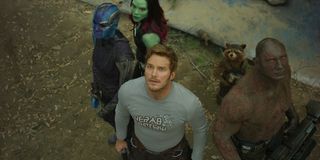 If you've ever wondered what already-cast Marvel villain could work in the Guardians of the Galaxy franchise, wonder no more. James Gunn has revealed that Wilson Fisk, aka Kingpin from Daredevil, is the one Marvel super-villain he'd love to clash with in a future Guardians Of The Galaxy film. In fact, he recently went so far as to explain why this character might work in outer space compared to other Marvel characters from different projects, noting,
This isn't the first time that one of James Gunn or Vincent D'Onofrio, who has played Wilson Fisk/Kingpin in both seasons of Daredevil, has revealed their intent to work with the other. A while back, before James Gunn even made the above comments to Fandango (opens in new tab), Vincent D'Onofrio took to social media to respond to the filmmaker's online admission that he had an idea for a Moon Knight movie by declaring that he wanted in on that project, too. While not the same thing as appearing in a Guardians of the Galaxy franchise film, it's clear that D'Onofrio thinks it would be swell to work with Gunn and vice versa.
Of course the one big problem with this proposal is that, while it is still part of the continuity of the Marvel Cinematic Universe, Daredevil and its characters have so far only appeared on Netflix, while Guardians Of The Galaxy is one of the studio's most prized and lucrative cinematic franchises. The addition of Kingpin to a future Guardians Of The Galaxy film would certainly make for an interesting proposition. Not just because it would open up the possibility of Daredevil, Jessica Jones, Luke Cage, The Defenders, and more crossing over to the big-screen, but also because Vincent D'Onofrio has been roundly lauded for his portrayal as Kingpin, and would provide a formidable counterpart to the fun-loving posse.
If anyone still on the fence about whether or not to actually allow James Gunn to use Kingpin in a future Guardians Of The Galaxy film then maybe the fact that Gunn is still considering his involvement in Vol. 3 will help sway his decision. While Gunn is adamant that he wants to be involved in Vol. 3 in some fashion, he's still not sure if he will return to write and direct, which is understandable considering just how big an undertaking these films are. Maybe adding a fun, outside-the-box character could help sway James Gunn's opinion. In the meantime, you can celebrate the fact that we only have a couple of weeks left until Guardians Of The Galaxy Vol. 2 is released by watching its trailer below.
Guardians Of The Galaxy Vol. 2 will be in theaters on May 5. To find out what other movies are going to hit theaters this summer, take a look at our movies premiere schedule.
Your Daily Blend of Entertainment News
Thank you for signing up to CinemaBlend. You will receive a verification email shortly.
There was a problem. Please refresh the page and try again.