The Hardest Father Of The Bride Scene To Film, According To Kimberly Williams-Paisley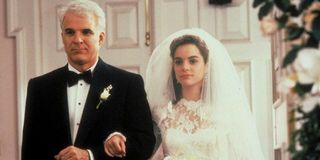 When you're in the throes of watching a film, it's sometimes easy to overlook the actual struggle that goes into shooting sequences, especially those of a highly emotional variety. Actress Kimberly Williams-Paisley has opened up about the issues she had while shooting a scene of the emotional ilk for Father Of The Bride, which last recently celebrated its 25th anniversary. It turns out that the biggest issue Kimberly Williams-Paisley--who at the time of production was just 19 years of age--encountered was being asked to cry on cue during a fairly innocuous scene.
The scene in question saw Williams-Paisley's Annie receiving a blender as a wedding gift from her husband-to-be Bryan (George Newbern). But this gesture led to a mini-breakdown of sorts for Annie, who interpreted it as Bryan revealing that he wanted her to be a housewife. At that moment Steve Martin's George Banks, who was Annie's father in the movie, was supposed to come into her bedroom to find her wailing uncontrollably, but during film, Kimberly Williams-Paisley just couldn't force the tears to come. And somewhere between 30 and 40 takes later she still hadn't done so. Kimberly Williams-Paisley recalled,
This was a problem that Kimberly Williams-Paisley had long anticipated. Before being cast in Father Of The Bride the burgeoning actress hadn't had much training in accessing her emotion onscreen, and the more she thought about it, the more she became convinced that she wouldn't be able to cry when required. So much so that the night before they shot the scene she was so nervous she didn't sleep a wink.
In the hands of another director the above scenario could have turned into a screaming match that would have immediately put the still- inexperienced Kimberly Williams-Paisley off of acting for the rest of her life. Instead, director and co-writer Charles Shyer kept on trying again and again, waiting for Kimberley Williams-Paisley to find the right motivation to cry.
That motivation finally arrived in the shape of the immense pressure that Kimberly Williams-Paisley felt by letting the entire production down, especially as it grew close to lunchtime and they hadn't managed to get the relatively simple scene in the can. Kimberly Williams-Paisley admitted to ABC News that the sight of the effects person switching on the fake rain over and over again, and various other restless crew members staring straight at here from behind the camera provoked her to question her own ability as an actress, and suddenly the waterworks happened.
Charles Shyer immediately took advantage of this raw, unabashed and 100% real show of emotion from Kimberly Williams-Paisley and finally shot the scene in question, and upon its completion the entire crew applauded in celebration. It's a timely reminder that Hollywood isn't just full of self-obsessed sycophants, but also people that are prepared to celebrate even the smallest of victories. Especially when they're hungry.
Your Daily Blend of Entertainment News
Thank you for signing up to CinemaBlend. You will receive a verification email shortly.
There was a problem. Please refresh the page and try again.