Anne Hathaway And Rebel Wilson Are Remaking A Classic Steve Martin Comedy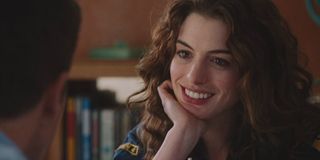 Over the last few years, Anne Hathaway has been on a mission to alter her cinematic personality. The trailer for Colossal, which was released earlier this week, proved just that. As well as the imminent arrival of Colossal, Anne Hathaway is also currently putting the finishing touches to Ocean's Eight, while it has now been revealed that her next project will be a remake of Dirty Rotten Scoundrels opposite Rebel Wilson.
The Hollywood Reporter confirmed that the new incarnation of the comedy will be retitled Nasty Women. They also revealed that the Australian comedian and the Oscar winning actress will be playing two women that go about their conning in much different ways. They decide to team up so that they can con a wealthy tech prodigy out of his billions of dollars.
Dirty Rotten Scoundrels was released in 1988 to impressive reviews and a hearty box office haul of $42 million. The comedy sees Steve Martin playing a brutish and arrogant American con man, Freddy Benson, who goes up against Michael Caine's British con man Lawrence Jamieson, who is much more suave and charming. I think we can all guess which roles Hathaway and Wilson be taking on.
After originally looking to learn and work under Lawrence Jamieson, Freddy Benson decides to strike out on his own. However, the French Riviera isn't big enough for the both of them. So they set up a bet, with the winner then allowed to stay in the area. The first con-man to get $50,000 from their mark can stay, and they soon pick out Janet Colgate, a naïve American heiress (Glenne Headly) as their target.
It's hard to tell exactly how much Nasty Women will take from Dirty Rotten Scoundrels, as The Hollywood Reporter have only revealed that the pair team up to rob their mark, but don't mention whether they actually go up against each other. Considering the different sensibilities of the actresses, the film would surely prosper more if the abrasive and boorish Wilson was competing against the sophisticated and elegant Hathaway.
Rebel Wilson has also decided to produce the project alongside Roger Birnbaum, under his Pin High Production banner. Anne Hathaway also has her own link to Nasty Women, too, as the script for the remake has been written by Jac Schaeffer, who penned The Shower, which is a sci-fi comedy that she was aligned to produce and star in back in 2015.
There's no precise news on when we can expect Nasty Women to be released, but with Rebel Wilson currently shooting Pitch Perfect 3 there's every chance that cameras will start rolling later in the year.
Your Daily Blend of Entertainment News
Thank you for signing up to CinemaBlend. You will receive a verification email shortly.
There was a problem. Please refresh the page and try again.