Apparently Supreme Leader Snoke Is A Super Stylish Dresser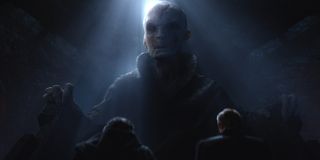 After his ever-so brief debut in Star Wars: The Force Awakens, there is still an abundance of unanswered questions regarding Supreme Leader Snoke. We expect to learn more concrete information about the villain over the course of The Last Jedi when it's finally released later this year, and if the latest rumors are to be believed, he might be a little more fashion conscious than any of us would have ever predicted. That's because it has been alleged that Snoke is going to wear a gold robe, genie slippers, a huge ring and even more extravagant attire in The Last Jedi.
That's right, apparently Supreme Leader Snoke is a snappy dresser who likes to spend his days waltzing around his lair wearing a gold silk robe that even has a meticulously detailed pattern on it. If we do actually get to see him in such attire in The Last Jedi, then it will be a far cry from the clothes that we saw him wear in The Force Awakens. That's because Leader Snoke only just wore black when he appeared as a hologram and chastised Adam Driver's Kylo Ren and Domhnall Gleeson's General Hux.
At this point, it was widely assumed that Supreme Leader Snoke didn't possess an eclectic wardrobe, and that he probably bought similarly dark attire in bulk. That's far from the case, though, because as well as the aforementioned golden robe, which makes him sound like an evil Hugh Hefner, he also possesses slippers that have been compared to those worn by genies and jesters. Of course, they also come in gold, because they have to match his robe and he doesn't want to look stupid. As well as the gold, Making Star Wars has also alleged that both the robe and slippers have a red lining.
Supreme Leader Snoke isn't just intent on impressing with his bed-time wear, though. It has also been reported that he wears a fancy ring on his left hand, too. Rather than being compared to a subtle and elegant number that the Queen Of England herself would immediately feint at, this ring has actually drawn comparison with the popular candy of yore known as Ring Pop. It must be a licorice flavor because the ring is black, and it has even been speculated that it is made up of Kyber Crystal.
Further rumors have suggested that Supreme Leader Snoke, who is played by Andy Serkis, also has a throne room and an opulent abode that suggests when he was back in his prime, he had a lot of money at his disposal, and it still means a lot to him. That's certainly a shock considering what we've already seen of the character in Star Wars: The Force Awakens, which you can remind yourself of below.
We'll see if the above is even remotely true when Star Wars: The Last Jedi is released on December 15.
Your Daily Blend of Entertainment News
Your Daily Blend of Entertainment News
Thank you for signing up to CinemaBlend. You will receive a verification email shortly.
There was a problem. Please refresh the page and try again.