Watch A Little Girl Drop An F-Bomb Because She's Excited About The Smurfs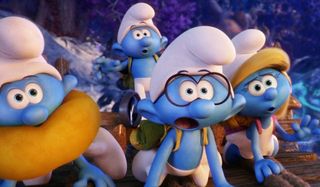 Most adults can't help but drop a few expletives when they're on the verge of watching a movie that they've been waiting years to see. It's not something that we associate with young children, though. But clearly the urge to swear ahead of seeing a film has no age limit, because an adorable little girl decided to drop a perfect placed f-bomb ahead of watching Smurfs: The Lost Village, and in the process she created the sort of viral video that'll immediately brighten your day. Warning: As you should have guessed, the following video features one particularly strong swear word. So those of you that are easily offended probably shouldn't click on it.
Now, I know that we probably shouldn't laugh at the above. But unfortunately I actually think it's physically impossible not to let out a hearty chuckle at a little girl swearing when she's clearly not supposed to. Obviously the good people of the internet got quite a kick out of it, too, because it has already received over 2,100 re-tweets, and 5,500 favorites on Twitter.
I'm still not entirely sure whether she's swearing because she's so excited to see Smurfs: The Lost Village, or it's more a case of, after seeing its two predecessors, she feels obliged to see The Lost Village and she just wants to get it over and done with. Clearly the only way to answer that quandary is for Justin McElroy to record his daughter's review of Smurfs: The Lost Village, which is a video that a lot of people would certainly be interested in watching. Particularly if it is as blue as her pre-screening efforts.
Justin McElroy also pointed out that the above line wasn't originally coerced out of his daughter, but he did admit that he "made her repeat it for posterity." We can only be grateful that he went above and beyond his call of duty as a father to share such a potent moment of crass and sweetness with the world, especially since, after watching it, you can't help but slightly question his parenting methods. You can take a look at our Smurfs: The Lost Village review to see whether it's appropriate for you and your children.
Smurfs: The Lost Village, which includes the vocal talent of Demi Lovato, Rainn Wilson, Joe Manganiello, Jack, McBrayer Danny Pudi, Michelle Rodriguez, Jake Johnson, and Julia Roberts, is in cinemas now. If you're pretty confident that Smurfs: The Lost Village isn't really for you then you can check out our full 2017 release list so that you can plan your next trip to the theater, and you'll also be able to see if one of these future films forces you to spontaneously utter an expletive, too.
Your Daily Blend of Entertainment News
Thank you for signing up to CinemaBlend. You will receive a verification email shortly.
There was a problem. Please refresh the page and try again.