What Happened When Harry Potter's Jason Isaacs Tried To Steal A Copy Of The Daily Prophet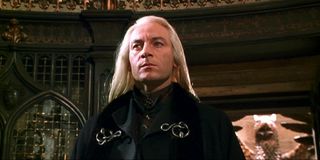 Film history is littered with stories of casts and crews trying to steal prized pieces of possessions and memorabilia from sets during production. Most get away with it, too. But Jason Isaacs has now revealed that his attempts to take a measly edition of The Daily Prophet from the filming of Harry Potter were thwarted by director David Yates, despite the fact that there were, according to him, "thousands" of editions of the newspaper available. Jason Isaacs recently recalled,
The above recollection of events, which Jason Isaacs made to Bang Showbiz, suggests that director David Yates actually didn't have the clearance to make such a call. Or maybe he just wanted to play a huge prank on Jason Isaacs, who stupendously portrayed Lucius Malfoy throughout the franchise. But while the blame for this tomfoolery should surely lay at the feet of David Yates, Jason Isaacs actually believes that it's all Alan Rickman's fault.
That's because the legendary Die Hard actor actually started off production on the Harry Potter films by stealing all of the Gringotts coins. According to Jason Isaacs, this immediately put security's noses up, and they had to start ruling with an iron fist in order to stop pieces of the set from going missing. Jason Isaacs explained,
Alan Rickman was probably able to get away with such daylight robbery because of the fact that he was Alan Rickman. Just a quick explanation from his legendary dulcet tones would have allowed him to walk off the set with Hedwig if he so desired. Basically it was the English equivalent of Obi-Wan Kenobi's Jedi mind trick that convinced the Stormtroopers in A New Hope that C3PO and R2-D2 weren't the droids they were looking for.
If Jason Isaacs is still intent on getting his hands on his very own copy of The Daily Prophet, the wizarding newspaper that is the primary source of news for British wizards that has been in circulation since 1743, then we're guessing he needs to head to the set of Harry Potter prequel/spin-off Fantastic Beasts And Where To Find Them 2. Production on the sequel is due to begin in August 2017, while it will be released into cinemas on 16 November, 2018.
Your Daily Blend of Entertainment News
Thank you for signing up to CinemaBlend. You will receive a verification email shortly.
There was a problem. Please refresh the page and try again.