Escape Plan 3 Has Already Been Announced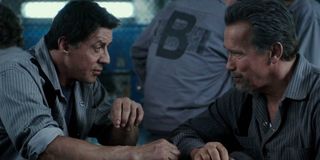 Escape Plan 2 hasn't even hit theaters yet, but those behind the prison drama clearly have high hopes for its release, because surprisingly, they have already confirmed that a third installment is on the way. They've managed to bring the biggest gun at their disposal back for the film, too, as it has already been confirmed that Sylvester Stallone will reprise his role as Ray Breslin for a third time.
Deadline has confirmed that Emmett/Furla/Oasis Films CEOs and co-founders Randall Emmett and George Furla have just given the green-light to a third Escape Plan film. Lionsgate Premiere will be releasing Escape Plan 3 domestically. This is the perfect present for those working on Escape Plan 2, as production on the film is due to wrap this week. Miles Chapman, who wrote the screenplay for both Escape Plan and Escape Plan 2, has been brought back to write the third film, while, after replacing Mikael Hafstrom, director Steven C. Miller will oversee Escape Plan 3 as well.
At the moment, other than Sylvester Stallone, we're still not sure who will be returning from the cast for Escape Plan 3. Only Sylvester Stallone and 50 Cent have starred in both Escape Plan and its impending follow-up, while Dave Bautista and Jaime King have been added for Escape Plan 2, which also has the additional subtitle of Hades. The opportunity to shoot Escape Plan 3 appears to have opened up after Stallone left The Expendables 4, which was announced last month due to creative differences over the script and direction the franchise was heading.
We're still going to have to wait and see whether or not Escape Plan 3 ever actually makes it to the big-screen, though. Because even though Escape Plan was a bit of a success, gaining some positive reviews for how it reunited Arnold Schwarzenegger and Sylvester Stallone in a fun and effective manner, it still only grossed $137.3 million. Considering that its budget was only $50 million that's a pretty impressive haul, but only $25.1 million of that was made domestically.
Escape Plan 2 will have to eclipse the amount it made in the US, while also rivalling its worldwide haul, for another sequel to be ordered. Unfortunately they won't have the star quality of Arnold Schwarzenegger to assist them in this quest, but the addition of Dave Bautista should add some more appeal. Especially after his work in Guardians Of The Galaxy and Skyfall. Sylvester Stallone recently uploaded a video of the pair in action together in Escape Plan 2, so you can form your own early judgements whether the duo will be effective.
We're still waiting for an official release date for Escape Plan 2: Hades, but it will no doubt come in 2018. Once it does, we will have a clearer idea of whether or not Escape Plan 3 will be required, or if it will instantly be deemed surplus to requirements.
Your Daily Blend of Entertainment News
Your Daily Blend of Entertainment News
Thank you for signing up to CinemaBlend. You will receive a verification email shortly.
There was a problem. Please refresh the page and try again.