Sylvester Stallone Is Back For Escape Plan 2, But What About Arnold Schwarzenegger?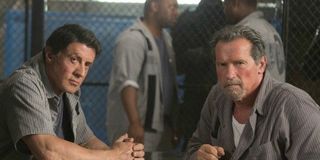 Since Escape Plan was a modest box office success upon its release back in 2013, grossing $137 million worldwide from just a $50 million budget, it's little surprise that plans are afoot for a sequel. Those involved have also convinced Sylvester Stallone to reprise his role as Ray Breslin. However, this time around he will just be present in a supporting role rather than leading the way, while Arnold Schwarzenegger has decided not to return.
Deadline were the first to reveal that Sylvester Stallone will feature in Escape Plan 2, but they failed to reveal who will be along for the ride with him. Since it's only in a supporting role, there's a good chance that this time around Sylvester Stallone will be playing a mentor to a younger character that is maybe incarcerated in the same prison that he managed to escape from in the original.
Escape Plan was the first time that Arnold Schwarzenegger and Sylvester Stallone starred in a film together. It saw Stallone portray Ray Breslin, a structural engineer that's incarcerated in the world's most secret and secure prison. With the help of Arnold Schwarzenegger's Emil Rottmayer, he manages to escape, while the film's impressive cast was rounded out by Jim Caviezel, Sam Neill, Vinnie Jones, Amy Ryan, Vincent D'Onofrio and Curtis Jackson. You can check out its trailer below.
It's now full steam ahead with Escape Plan 2, as Miles Chapman, who wrote the original, is already working on the script for the sequel, while Randall Emmett, George Furla and Zack Schiller are returning as producers, too. Their next task will be to find a director to helm Escape Plan 2, as the original's Mikael Hafstrom wasn't mentioned in the announcement regarding the follow-up, which suggests he won't be involved.
They don't have too long to find someone, too, because they've already earmarked January 15, 2017 as the day when they'll start pre-production, while they'll shoot in Ohio and China from March 15. The powers that be that are financing Escape Plan 2 have decided to include a "major Chinese component" in the film, which was key to financing the sequel.
That's because while Escape Plan was a bit of a box office bomb domestically, where it only grossed $25 million from a $50 million budget, it was hugely popular internationally, especially in Asia. In China alone, it grossed $40.9 million, while in Japan it brought in $5.8 million, and in Hong Kong it made $1.7 million.
Obviously these audiences found the allure of both Sylvester Stallone and Arnold Schwarzenegger in the same movie too good to turn down, so they flocked to see it. It will be interesting to see if the sequel can have the same impact, though, now that only Sly is returning, especially since it's a bit-part role, too.
Your Daily Blend of Entertainment News
Thank you for signing up to CinemaBlend. You will receive a verification email shortly.
There was a problem. Please refresh the page and try again.