How The Fate Of The Furious Paid Tribute To Paul Walker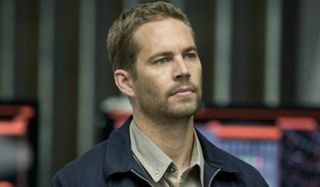 Warning: There are MAJOR SPOILERS ahead for The Fate Of The Furious. So please don't read on if you haven't seen the latest installment to the Fast And Furious franchise. You have been warned.
After the emotional tour-de-force that was Furious 7, The Fate Of The Furious was always going to have to tread carefully with how it handled Paul Walker's Brian O'Conner. Because of the actor's tragic death during its production, Furious 7 culminated with Dom vowing not to put Brian in harm's way, and left him on an idyllic beach with his pregnant wife Mia (Jordana Brewster) and their son.
Of course, since the gang is torn apart in The Fate Of The Furious, there was always going to be a temptation for one of the characters to call upon Brian O'Conner, while the franchise was always going to want to tip its hat to Paul Walker, too. They did just that on a few occasions in the film, which you can read about below.
Brian Toretto
Actually, that should probably read Brian Neves. Especially considering what happens to Elena. As those of you that saw The Fate Of The Furious are more than aware of, the reason Dom decides to go rogue and work with Cipher (Charlize Theron) is because she has kidnapped Elena (Elsa Pataky). It also turns out that Elena previously gave birth to Dom Toretto's kid, something that obviously happened after the pair split up in Fast And Furious 6, and kept it a secret from him. Cipher orders her henchman Rhodes (Kristofer Hivju) to murder Elena in front of Dom in an attempt to have a greater control of his actions.
But this only spurs Dom on to try and gain his revenge, and after getting into contact with Deckard Shaw's mother Magdalene (Helen Mirren), Jason Statham's character, with a little helping hand from his younger brother Owen (Luke Evans), is able to rescue Dom's child while also killing all of Cipher's cronies. Dom does just that to Rhodes, too, before then guiding a heat-seeking missile into the rogue submarine that had threatened to kill his pals. With everything ironed out, it's all happy families again, just with an extra bundle of joy. Elena was yet to name the child, though, which leaves the responsibility at the feet of Dom, who decides to name it none other than Brian. I'm welling up just thinking about it.
Brian And Mia Kept Out Of Action
There was one other mention of both Brian and Mia (Jordana Brewster) in The Fate Of The Furious, which arrived when the gang were in their tightest spot yet. Seemingly abandoned by Dom, who had just smooched Cipher after they had broken into a government building and briefly paralyzed them, Roman (Tyrese Gibson) and Tej (Ludacris) propose that Brian would know how to handle the situation. However Letty immediately shoots down the suggestion that they bring either Brian or Dom's sister Mia into the fold, and insists that they have to find their own way out of the quandary. Eventually her faith in the group is justified, but only after Dom himself works in cahoots with Magdalene, which suggests that they really are lost without him.
Earlier this month I had the opportunity to chat with F. Gary Gray about The Fate Of The Furious, and during our discussion I quizzed him about the film's references to Paul Walker. You can check out his response on the next page.
Vin Diesel's relationship with the Fast And The Furious franchise is unlike any in cinema. So much so that there's an energy and connection between the two parties that seems to transcend mere movie-making. When you then bring into the fold the death of Paul Walker, who had starred with Vin in five of the past seven films from the franchise, it always meant that Fate Of The Furious needed to careful about how it referenced the actor and his character.
F. Gary Gray admitted to me recently that Paul Walker's legacy was considered at every possible juncture during Fate Of The Furious' development, as the director, writer Chris Morgan and star Vin Diesel made sure that the actor's connection to the franchise didn't just wilt away. Gray explained:
It looks as though there are going to be plenty more opportunities to pay tribute to Paul Walker in The Fast And The Furious franchise's future, as The Fate Of The Furious is currently on course to earn as much as $440 million in its opening weekend, while there's every chance it might ultimately rival Furious 7's $1.6 billion gross, too.
Your Daily Blend of Entertainment News
Your Daily Blend of Entertainment News
Thank you for signing up to CinemaBlend. You will receive a verification email shortly.
There was a problem. Please refresh the page and try again.