How Rey Views Luke Skywalker, According To Daisy Ridley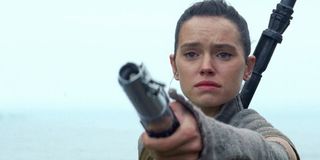 Rey and Luke Skywalker's only interaction in the Star Wars universe so far has consisted of a rather intense glance. Star Wars: The Last Jedi will clearly build upon the very last scene and shot of Star Wars: The Force Awakens, though, with the blockbuster's recent trailer confirming that Luke Skywalker will train Rey during their time on Ahch-To. But their relationship is set to be much more complex than that, as Daisy Ridley has now said that Luke Skywalker doesn't quite live up to Rey's lofty ambitions. Daisy Ridley explained,
There's going to be an awful lot for both Rey and Luke Skywalker to talk through in the opening stages of The Last Jedi, and most of it isn't going to be pretty. First of all, Rey is actually going to have to formally introduce herself to Mark Hamill's character, which will hopefully also see her reveal some more information about her past and parentage. Then she's going to have the rather awkward task of breaking the news that Luke Skywalker's old chum Han Solo (Harrison Ford) has not only been murdered, but that he was also killed by his very own son Ben Solo, aka Kylo Ren (Adam Driver), who Luke Skywalker failed to keep away from the dark side during his training.
As well as these formalities, Rey is also going to have to try and keep herself in check throughout all of their discussions, because as she previously admitted in The Force Awakens, she recently was under the assumption that Luke Skywalker was just a myth. The very first trailer for Star Wars: The Last Jedi proved that they're eventually able to get down to the nitty-gritty of training. However, Luke Skywalker's added revelation that he believes the Jedis need to come to an end will probably only add an extra burden to their relationship. Daisy Ridley's above comments to MTV suggest that Luke's rather negative tone regarding where he is at in his life will lead to friction between the pair, and it'll be interesting to see how Rey deals with such conflict, especially when it's with such an iconic figure.
You can relive our very first glimpse of Luke Skywalker and Rey getting into shape, as well as some glorious shots of Skellig Michael, by re-watching Star Wars: The Last Jedi's trailer below.
Star Wars: The Last Jedi will finally be with us on December 15. If for whatever reason you're not actually that excited about the return to the galaxy far, far away, and want to broaden your cinematic horizons, you can check out Cinema Blend's full 2017 movie schedule here to plan your next trip to the theater.
Your Daily Blend of Entertainment News
Thank you for signing up to CinemaBlend. You will receive a verification email shortly.
There was a problem. Please refresh the page and try again.