James Wan's Aquaman Cast, An Updated List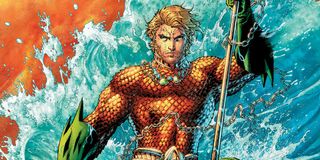 The DCEU slate has taken a beating over the course of the last year, as the company has consistently (and frantically) shuffled and switched movies around. However, there's one solo movie that seems to have remained stable with minimal issues throughout DC's tumultuous early years: Aquaman. James Wan's upcoming epic has managed to stay afloat (pun very much intended) when other DC movies have faltered in development, and we can likely attribute much of that success to the talent and professionalism of the film's core ensemble.
Aquaman's central cast has gradually managed to come together in recent months and looking at the entire lineup at once instantly makes you realize exactly how lucky this film is, at least in terms of landing big names for its cast. On that note, let's dive into Aquaman's final cast list and examine each of these talented performers before the movie enters production -- starting with the man himself: Jason Momoa's Aquaman.
Jason Momoa As Aquaman
An Aquaman solo movie was pretty much always going to be a hard sell for mainstream audiences, but casting Game of Thrones alum Jason Momoa as the central aquatic hero was nothing less than a stroke of genius on DC's part. Even without blonde hair, he already has it nailed down. His take on Arthur Curry has thus far proven himself to be immensely charming and fierce, and his introduction in Justice League seems to set up an intriguing underwater realm for DC to explore further is it moves into the solo story.
Amber Heard As Mera
They say that there's a great woman behind every great man, and Aquaman appears to embrace that adage wholeheartedly. Amber Heard will make her grand debut as the fearsome Mera during the events of Justice League, and she will take center stage alongside Jason Momoa's Arthur Curry when James Wan's Aquaman finally premieres. Mera is the tough as nails queen for the people of Atlantis, and she will serve as a strong counterpoint to Arthur himself; clearly, she's not afraid to cross him when she has to.
Nicole Kidman As Queen Atlanna
The women in Aquaman's life clearly play large roles in his stories, and that idea will continue with the casting of Nicole Kidman as Queen Atlanna. Like several other members of this cast, Nicole Kidman is actually not a stranger to the DC universe; she played Dr. Chase Meridian in Joel Schumacher's 1995 film Batman Forever alongside Val Kilmer's Dark Knight. Let's just hope that she will make a stronger impression on audiences with this DC role than she did the last time she delved into this fictional world.
Yahya Abdul-Mateen II As Black Manta
Every movie about a great superhero deserves a great supervillain, and in the realm of Aquaman lore, there is no villain more iconic than Black Manta -- who will be portrayed by The Get Down's Yahya Abdul-Mateen II. Arthur Curry's arch nemesis, Manta is a former surface dweller whose severe and unique form of autism forces him to feel extreme pain unless surrounded by cold water. He is a technologically advanced villain who leads massive armies, and he's even responsible for the death of Aquaman's infant son.
Patrick Wilson As Orm/Ocean Master
Despite the fact that Black Manta will serve as the central antagonist of Aquaman's story, the film will also see several other threats waiting in the wings. One such enemy will take the form of Aquaman's half-brother Orm, also known as the villainous Ocean Master. Actor Patrick Wilson is no stranger to the realm of comic book movies; he portrayed Nite Owl in Zack Snyder's 2009 film Watchmen, and he even voiced The President of the United States in Batman V Superman: Dawn of Justice. In blunt terms: he knows DC.
Willem Dafoe As Vulko
The announcement that Willem Dafoe would join the DCEU raised a ton of various theories and ideas about who he could potentially portray, and the role of Nuidis Vulko seems like a perfect fit. As a political advisor to the King of Atlantis, Vulko has most often been portrayed as an ally to the aquatic hero over the years, but he has also had his moments in which his allegiance has wavered. Dafoe is slated to debut as the character in Justice League, and take on a more substantial role in the solo movie.
Temuera Morrison As Tom Curry
Aquaman is the King of Atlantis, but that only represents one dimension of this incredibly complex and nuanced character. Arthur Curry was raised on the surface by a lighthouse owner named Tom Curry -- who will be portrayed by Star Wars veteran Temuera Morrison in the upcoming solo film. Fatherly relationships have played a significant role in every single DCEU film to date, so we can only assume that Tom's guidance and connection to Arthur will play a fundamental role in how his character is portrayed.
Dolph Lundgren As King Nereus
Rounding out the Aquaman ensemble is 1980s action icon (and Arrow veteran) Dolph Lundgren as King Nereus. Lundgren is the newest addition to the Aquaman cast, and Nereus himself is a relatively recent addition to the DC comic book lore, so not too much is known about this depiction of the character. That said, we do know that he is the leader of a group of exiled Atlanteans and that his origins are very closely tied to Mera's, which means he could be critical for setting up future conflicts.
With such an immensely talented and diverse central ensemble ready to step in front of the camera for Arthur Curry's first solo movie, I think it's safe to say that there's plenty of reasons to get excited about what's on the horizon for Aquaman. The aquatic DC solo movie will debut in theaters next year on December 21, 2018. Here's everything else that we currently know about the long-awaited DC project.
Your Daily Blend of Entertainment News
Originally from Connecticut, Conner grew up in San Diego and graduated from Chapman University in 2014. He now lives in Los Angeles working in and around the entertainment industry and can mostly be found binging horror movies and chugging coffee.
Your Daily Blend of Entertainment News
Thank you for signing up to CinemaBlend. You will receive a verification email shortly.
There was a problem. Please refresh the page and try again.