Watch Gold Leader Drop An F-Bomb In Uncensored Star Wars Footage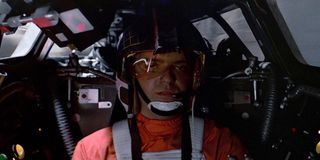 Luke Skywalker may have blown up the first Death Star in A New Hope, but he couldn't have accomplished that amazing feat without the sacrifice of his fellow Rebel pilots. One of those pilots was Jon Vander, a.k.a. Gold Leader, and if you thought flying down a trench filled with turbolasers and TIE Fighters was hard, just imagine acting in one of those cockpits when the first Star Wars movie was shooting. Okay, so those aren't really comparable, but actor Angus MacInnes did spend a fair amount of time as Gold Leader, and like other actors, he didn't always get his lines right, as evidenced by this humorous f-bomb from this special Star Wars footage.
Along with dropping plenty of The Last Jedi goodies, last week's Star Wars Celebration also highlighted the franchise's 40th anniversary. To help celebrate the occasion, attendees were treated to some never-before-seen footage from A New Hope, including Angus MacInnes exclaiming "Fuck!" upon messing up the delivery of one of his lines. Fortunately, he quickly got that out of his system, and the rest of the clip (via TheCinemaRealm) has him going through the rest of the motions as Gold Leader. Communicating with Red Leader, locking in the exhaust shaft, etc. Don't worry, Mr. MacInnes; no doubt you weren't the only one who dropped at least one f-bomb during production.
In case any casual Star Wars viewers out there need a refresher, Jon Vander led Gold Squadron, the Y-Wing group that was sent in during the Death Star attack on a bombing run. While he and his fellow pilots were sufficiently prepared for normal Imperial resistance while flying down the trench, they didn't expect to be personally targeted by Darth Vader. Despite all his skill, Gold Leader was no match for the Sith Lord and was quickly gunned down, and Gold Two and Gold Five followed soon after. In fact, when all was said and done, the only Rebels who made it out of the Death Star mission alive were Luke Skywalker, Han Solo, Chewbacca, Wedge Antilles and an unidentified Y-Wing pilot. The losses were great, but it was worth it to take down that battle station.
While A New Hope marked the end of Gold Leader, he was surprisingly included in last year's Rogue One: A Star Wars Story, which depicted how the Rebellion stole the plans for the Death Star. Turning to unused footage from A New Hope, the filmmakers included both him and Red Leader among the pilots who participated in the Battle of Scarif. Angus MacInnes even recorded some new lines for the character he played four decades ago.
You can now see Gold Leader's special appearance in the comfort of your own home, as Rogue One is available on Blu-ray, DVD and Digital HD. But spoiler alert, you won't hear him yell out "Fuck!" as a TIE Fighter is hot on his tail.
Connoisseur of Marvel, DC, Star Wars, John Wick, MonsterVerse and Doctor Who lore. He's aware he looks like Harry Potter and Clark Kent.
Your Daily Blend of Entertainment News
Thank you for signing up to CinemaBlend. You will receive a verification email shortly.
There was a problem. Please refresh the page and try again.