Apparently, Oscar Isaac Shot An Intense Scene With Carrie Fisher For Star Wars: The Last Jedi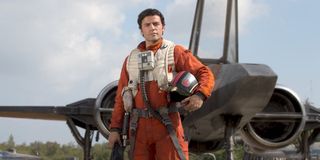 If you're looking for a flying ace who can shoot down TIE Fighters left and right on behalf of The Resistance, Poe Dameron is your man. Introduced in The Force Awakens alongside fellow new Star Wars protagonists Rey and Finn, Poe will have plenty to do when he returns in The Last Jedi. Most of Poe's scenes in The Force Awakens were either with Finn or in the cockpit of his X-Wing, but he'll be interacting with more characters later this year. That includes added time with General Leia Organa, and there was one scene in particular between Oscar Isaac and Carrie Fisher that the former remembers as being especially intense. He recalled:
While promoting his new movie The Promise, Oscar Isaac reminisced about his time with Carrie Fisher during The Last Jedi shoot by looking back to his favorite scene with her. As he told Business Insider, it took place "basically" his first day on set and lasted about 25 takes, half of which were on him and half of which were on Fisher. Isaac couldn't go into detail about what happens in this scene with Poe Dameron and Leia Organa, but it certainly sounds like it left an enormous impact on him. Isaac also mentioned that he was fortunate to have been able to be in Fisher's "gravitational field," and noted how she would frequently show up drinking a Coca-Cola and find ways to cheer him up or undercut a situation.
Physicality isn't a lot to work with here, but keeping in mind that moment in The Last Jedi trailer of Poe running to his X-Wing with BB-8, maybe he and Leia will find themselves in the middle of a skirmish with The First Order. If Leia's in that same Resistance base that's being attacked, she may cross paths with Poe, and the two of them would need to work together to make it out alive. Still, let's not be hasty and dismiss that there might be a possible romance between these two! After all, it's not like Poe is tied down to anyone at the moment...well, unless his relationship with Finn has morphed.
Like Harrison Ford and Mark Hamill, Carrie Fisher was brought back to the Star Wars universe in The Force Awakens, and she will have a more prominent role in The Last Jedi. Sadly, Fisher passed away late last December, and following discussions among the Lucasfilm bigwigs, it was decided not to use a CGI recreation or existing footage of Fisher in Episode IX. What this means for Leia's ultimate fate remains to be seen, but assuming Poe Dameron doesn't encounter any fatal problems, he's expected to return for Episode IX.
Star Wars: The Last Jedi will be released on December 15. Feel free to check out our 2017 movie guide to find out when your most anticipated blockbusters of the year are arriving.
Connoisseur of Marvel, DC, Star Wars, John Wick, MonsterVerse and Doctor Who lore. He's aware he looks like Harry Potter and Clark Kent.
Your Daily Blend of Entertainment News
Thank you for signing up to CinemaBlend. You will receive a verification email shortly.
There was a problem. Please refresh the page and try again.